Rise of the Barter Economy
Exchanging goods and services is popular, but it's not the best business plan
Eric Spitznagel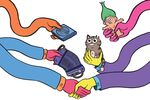 When Toronto-based financial planner Shannon Simmons offered her expertise to a professional clown, it wasn't exactly business as usual. Simmons advised her new client to switch from a "couch fund" to a high-interest-bearing account with limited market risk. In exchange for her advice, Simmons received trapeze lessons.
Surprisingly, it isn't the weirdest way that Simmons has been paid in the last year. Since leaving a full-time job at investment management firm Phillips, Hager & North in 2010 and embarking on a year-long experiment as a barter-only financial consultant, she's been compensated with a tutorial in butter-churning, a large bag of toiletries, and a chance to perform with the University of Toronto cheerleaders. "I had a guy come up to me once and say, 'I'm a fire-breather and I'd like to barter with you,' " Simmons says. "I was like, 'I don't think I can say no to that.' "
She ended her experiment in November, and not a moment too soon. She's broke, she says, and not sure if she could survive much longer with a barter-only business model. "It's a great idea in theory," she says. "But there are things you don't think about…. You can't barter with your landlord. Trust me, I tried." Despite the hardships, she still believes that bartering is the future. While she looks for gainful employment, she's shopping a book about her bartering experiences. "Bartering has changed the way I think about how I spend my money," she says.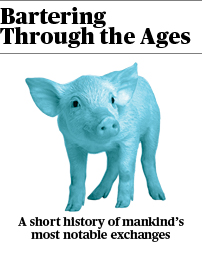 Bartering may sound like a style of commerce more fitting to a backwater marketplace than a modern capitalist environment. According to the International Reciprocal Trade Association—an organization created to promote "just and equitable standards" in modern bartering—the U.S. barter market is a staggering $12 billion annually. In other words, $12 billion worth of goods and services are traded every year without any currency changing hands. Scott Whitmer, founder of trade exchange company Florida Barter, says that while 2011 saw positive signs of an economic recovery, many small and medium-size companies are still struggling. "Bartering has continued to help many [of these] companies grow and conserve cash," he says. Though Florida Barter enjoyed a record 2011—a 12 percent increase in total trade volume; more than $17 million worth of trades among the 1,600 clients—Whitmer says bartering as a business practice is still in its infancy, "on the cusp of exploding."
People often require some encouragement to give bartering a shot. Debbie Lombardi, president and founder of Barter Business Unlimited, a Connecticut-based exchange network, says that despite her company's track record and 4,000-plus registered members, she still regularly encounters resistance and confusion from prospective customers. "Nobody comes to me and says, 'I've always wanted to try bartering,' " she admits. "It's more like, 'I don't get it. Is this some kind of scam?'"
It's no scam, but it can be complicated to the uninitiated. As Lombardi explains, "We run like a little bank." Members are paid in "barter dollars," which they can exchange with other members for goods and services. Within the bartering community, it's the only acceptable currency. "It's like going to a barter mall," Lombardi says. "They can do all their holiday shopping. They can get the carpets cleaned. They can pay for their child's orthodontic work. It's almost limitless."
Limitless—and occasionally bizarre. Lombardi has brokered barters on everything from tattoos to real estate to headstones. "Don't laugh, but we've had people who've bartered for boob jobs," she says. "If that's what you really want and it's not in your budget, with bartering you just have to do a few more carpet cleaning jobs and eventually you'll have new boobs. That's a wonderful thing."
Dave Evans, a Barter Business Unlimited member who operates an online ticket reseller in Plainville, Conn., called EasySeat, was first attracted to bartering as a means to sell distressed inventory. "Our inventory is 100 percent speculative," he says. "Bartering is a way for us to liquidate inventory that we might not be able to sell for cash." He's bartered tickets to New York Yankees championship games and Lady Gaga concerts, and in exchange he's received everything from a fresh paint job at a company building to an overhauled office alarm service. Sometimes, though, he's bartered for services that weren't exactly essential to his business. "I used some of the barter money to get Lasik surgery for myself," he says. "I guess that's a little counterintuitive."
Finding a way to make a profit from bartering isn't just a challenge to the people putting up their livelihood for trade. Even the brokers who act as bartering middlemen are searching for creative ways to make money from a service that isn't about making money. A website like Swap.com—which connects people who want to exchange their unused household items—looks, at least on paper, like a financial windfall. Jeff Bennett, Swap.com's CEO, claims that "the business has been doubling every year." They're closing in on 450,000 registered users, who've taken part in more than 4 million barter exchanges valued at approximately $13 million since the site's inception in 2010. But as no part of that $13 million is in actual money, how exactly does Swap.com cover its overhead? Most of its capital comes from "related aspects of the business," says Bennett, such as shipping fees and corporate sponsorships. "We've had very good experiences with companies like Gallo wines, LuLu's Clothing, and ModCloth." He also hopes to introduce a Swap.com subscription service in the near future that offers customers incentives for forking over a monthly fee, like an ad-free environment and early access to their favorite items.
Swap.com has also generated revenue by selling tickets to live events, like the popular Sip & Swap bartering mixers that've been held nationwide in cities from New York to Los Angeles. Ticket holders bring in items from their home that they want to trade—including clothing, books, DVDs, and baby supplies—and everything is up for grabs. "When we let everyone in," says Melissa Massello, one of the self-appointed "Swapaholics" who host the gatherings, "it's sort of a mad dash to get the best stuff." There is shoving, she says, and it can get physical.
Whitmer of Florida Barter says that limited and strategic bartering is best. "We're not going to help anybody pay their electric bill or their mortgage," he says. "But we can help them maintain their business and get sales they never would've had otherwise." The best barters, he says, are for things you might normally have spent cash on anyway, "like printing, advertising, marketing, or promotional T-shirts with your logo on it."
Florida Barter's clients cover a vast range of services, from doctors, lawyers, and accountants to electricians, plumbers, and massage therapists. "If a client makes a request and we don't have it," he says, "we'll go get it." He claims to have more faith in Florida Barter's "trade dollars"—which aren't all that different from Barter Business Unlimited's "barter dollars"—than U.S. government-issued currency. "Trade dollars, unlike U.S. dollars, are backed by goods and services," he says. "It's like the gold standard that we dropped."
His unwavering belief in bartering, however, doesn't necessarily apply to the 12 percent commission that Florida Barter takes with every exchange between its members. "That's how we pay our sales people," Whitmer explains. "Everyone signs our agreement to pay the 12 percent in cash, and we do not make any exceptions."
Before it's here, it's on the Bloomberg Terminal.
LEARN MORE