Bloomberg View: Keeping the Internet Safe From Rogue Regimes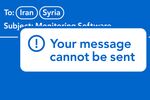 As documented by Bloomberg News, U.S., European, and other companies are selling technologies that enable the repressive Iranian and Syrian regimes to disrupt and monitor the Internet and track down government critics.
On April 23, President Barack Obama issued an executive order giving the U.S. Treasury Secretary the power to sanction individuals and companies that provide goods or services that can be used for such purposes. Those with assets in the U.S. risk having them blocked; individuals without such assets can be barred from entering the country. Perhaps the greatest penalty is the reputational cost of being placed on a U.S. sanctions list.
Of course it's good for citizens of these countries to have access to online communications. Western providers have been and should be helping to create those infrastructures. When it comes to add-ons, however, Iran and Syria are not like other places. Spam-filtering technology, for instance, can help keep mobile networks running faster, but in Syria it has also allowed government officials to block all messages including words such as "revolution," "demonstration," and "strike." In these countries, the risks of such systems outweigh the benefits. Decent companies have no business selling, installing, or maintaining them.
Issuance of the president's order alone is unlikely to make companies desist. The U.S. already had a rule barring federal agencies from doing business with companies that export to Iran any technology used to disrupt, monitor, or restrict the speech of Iranians. When the Government Accountability Office produced its report on such companies last June, it came up with none, though soon after journalists detailed several.
The glare of news media exposure has been enough for a couple of companies to pull out of their contracts in Iran and Syria. If the Department of Treasury were to pursue one or two remaining cases, it would pressure those companies that still provide questionable technologies.