Aviva Fires Everyone: Great Moments in Employee Motivation
By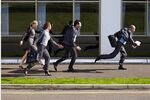 Workers across Europe are on tenterhooks these days, with all the talk of debt crises and such. So it was a dark day indeed for 1,300 workers at Aviva Investors, the asset management arm of the U.K. insurance company, when they opened a company e-mail on Friday to find out they had been fired. Please hand over your passwords and any company property and leave the building, they were told.
The only problem: Just one unfortunate soul was supposed to get the message. Oops.
The Telegraph newspaper has the details:
There was a stunned silence at the London headquarters as staff across the division read the unsympathetic memo—intended for just one employee. It instructed all Aviva Investor workers to hand over company property and security passes on their way out of the building and submit all electronic passwords. The terse communication reminded staff not to spill any company secrets.
It read: "I am required to remind you of your contractual obligations to the company you are leaving. You have an obligation to retain any confidential information pertaining to Aviva Investors operations, systems and clients."
Of little consolation, the final line said: "I would like to take this opportunity to thank you and wish you all the best for the future."
The company had already been cutting back in the face of a slowdown in sales, reports Bloomberg News. Paul Lockstone, a spokesman for Aviva, told Bloomberg an apology was quickly issued for the flubbed message. "It was intended that this e-mail should have gone to one single person. Unfortunately, as a result of a clerical error, it was sent to all of the Investors staff worldwide." Lockstone added: "From time to time, things go wrong."
Have a nice weekend.
Before it's here, it's on the Bloomberg Terminal.
LEARN MORE