The DeLorean's Time Leap
Three decades after DeLorean Motor closed shop, the iconic sports cars are back. (But they still don't fly)
by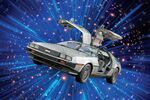 It's been 30 years since DeLorean Motor Co. closed its factory in Belfast, Northern Ireland. The sports car it produced is an antique now, anachronistic, but its role in the three Back to the Future movies has turned it into a beloved icon for car nuts, film buffs, and fans of flux capacitor jokes. And its cultural endurance has inspired Stephen Wynne, a former car mechanic, to bring the car back. In 2013 the reincarnated DMC will produce a new line of DeLoreans. The cars will have the same stainless steel body and signature gull-wing doors as before, only now they'll be electric. "I would delight in being able to resurrect the DeLorean car," John DeLorean, the vehicle's creator, wrote in his 1985 autobiography. He's finally going to get his wish—even if he's not around to see it.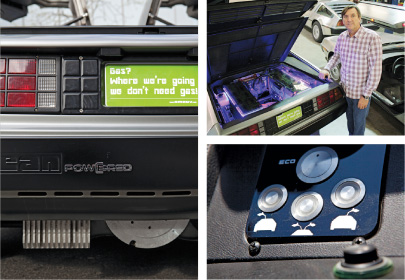 DeLorean was a tall, tanned auto executive working in Detroit when the city still had swagger. He joined the Pontiac division of General Motors in 1956, later headed Chevrolet, and ultimately became one of GM's top vice presidents. He owned several homes, wore his silver hair long, and is said to have dated Candice Bergen and Bond girl Ursula Andress. Before his death in 2005, he would marry four times.
DeLorean left GM in 1973 and a few years later started his own company to mass-produce cars, even though no American had successfully done so since Walter Chrysler in 1925. The U.K. agreed to invest nearly $160 million if DeLorean built his cars in Belfast, then wracked by violence and high unemployment. He joined with Italian car designer Giorgetto Giugiaro, known for his work with Maserati, to create a sleek two-seat coupe called the DMC-12 with a target price tag of $14,000 (about $44,000 today) that would make it an affordable rival of the Corvette. The car's signature feature was its winglike doors that DeLorean liked because "they add sex appeal."
By the time the first cars rolled out of the factory in spring 1981, their price had nearly doubled. DeLorean's goal of selling 30,000 vehicles per year was laughable; when the company briefly recalled the cars to fix a safety hazard in November 1981, only 1,700 had been sold. They didn't go very fast and had several design flaws, although defenders maintain that had the company stayed in business, such kinks would have been worked out.
By early 1982, DMC had run out of money, slipped into receivership, and laid off much of its 2,600 factory workforce. The same day the company closed for good, the FBI arrested DeLorean for alleged cocaine trafficking; authorities believed it was his last-ditch effort to raise money for his floundering company. He had managed to produce only 9,000 cars. The resulting court case lasted for two years and offered enough salacious details—Swiss bank accounts, misappropriated money, and a tape of DeLorean allegedly boasting about his (nonexistent) ties to the IRA—to keep the story on the front pages. The publicity helped the cars sell. When DeLorean was acquitted in August 1984, the New York Times reported that DMC-12 sales were "going right through the roof." But by then only one distributor still sold them.
"It gave the name 'DeLorean' a rebel mystique," says movie producer Bob Gale, who, with director Robert Zemeckis, wrote the script for Back to the Future during DeLorean's trial. "We originally had the time machine as a refrigerator strapped to a pickup truck. One morning Bob Zemeckis says, 'Wouldn't it be cool if it was a DeLorean instead?' " They wrote the car into the script—along with the joke that its stainless steel exterior "somehow made time travel work better," says Gale. "And the gull-wing doors gave us the opening to do the gag where the people in the 1950s think it's a flying saucer."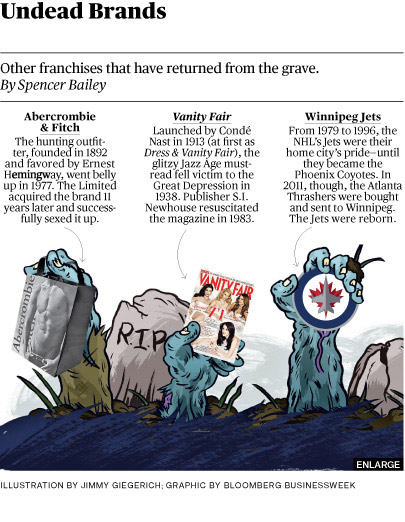 DeLorean's newfound popularity boosted business for Wynne, then an auto mechanic who specialized in DeLoreans. "The strange thing about DeLorean is that he ramped up production right as his company ran out of money, so they had this massive stockpile of parts," Wynne explains. In 1994 he opened his own DeLorean repair and restoration facility in Houston, which he renamed DeLorean Motor Co. "Surprisingly, they let me have that name," he says. Today, he says, he has purchased enough of the original DMC inventory to produce between 450 and 500 cars.
An estimated 6,000 DeLoreans still exist. The DeLorean Owners Association, formed in 1983, currently has 500 active members. Last year 100 of them traveled to Belfast to see the original factory. "I go to a DeLorean car show once every two years," says Gale. "Their owners are a crazy bunch."
For a movie franchise more than 25 years old, Back to the Future has a remarkable hold on the DeLorean community. "In the past few years, there's been a huge demographic shift in people who own these cars," says the association's president, Ron Ferguson. "People who weren't even around when the car was originally produced are buying these cars from older people because of the movie."
Adam Stadnick, 24, is one of those people. He saw Back to the Future as a teenager and couldn't stop staring at the time machine. "When I figured out that it was an actual vehicle and not something made for the movie," he says, "I had to have one." Four years ago he bought a dilapidated DeLorean for $15,000. "I still lived at home so I didn't have many expenses. For two years I basically handed over my paycheck every month," he says. Stadnick lives in Vero Beach, Fla., and runs his own computer repair service named Just in Time. He makes house calls in his DeLorean. That is, when it works.
In the 30 years Wynne has been in the DMC business, he says demand has never been stronger. "People ask me all the time, 'Where can I get a DeLorean?' " he says. A few years ago, he began to think, "I have the parts. Why don't I make them?" Wynne's DeLoreans are a mixture of old and new, the original body fitted on a new, lighter chassis. A believer in alternative fuel, Wynne decided if he was going to remake the car, he might as well make it electric. Its 35-kilowatt-hour lithium-ion phosphate battery is made by Flux Power. "We had to go with them, even if just for the name," he laughs.
One electric prototype of the new DeLorean has been completed so far. It takes 14 hours to fully charge through a normal wall socket (or 3.5 hours on a 240-volt charging station) and can go up to 100 miles before it needs recharging. The car's top speed is 120 mph. At a surprise appearance at the New York International Auto Show this month the DMC drew crowds of giddy onlookers. Surrounded by next year's car models, the DeLorean's boxy shape and rectangular headlights looked dated, more memorabilia than gateway to the future.
Sit in a DeLorean and one thing will immediately strike you: It's roomy. Low but wide, the car has enough legroom and seats that recline to accommodate the tallest of passengers (John DeLorean was 6 feet 4 inches). The parking brake is to the driver's left and the new car can be put into gear by turning a round knob where the manual gearshift used to be.
The electric DeLoreans will have the original leather interiors and be fitted with modern amenities such as an iPod dock and Bluetooth capability. Eventually, Wynne wants to sync the car's navigation system to work with drivers' smartphones. Unlike John DeLorean's mass-production model, Wynne wants to keep his initial run to just 75 cars, with plans to make no more than 300. At $95,000 each, "they won't be for everyone," he says.
"I can't wait to ride to work in stainless steel electric glory," says Dallas lawyer Quitman Stephens, 40. Stephens has made a deal with Wynne to purchase the first car when it's ready. "I'm an '80s child," he says. "For those of us who grew up in that era, the possibility of having a car with that design but with electric power is ultracool." It's almost like combining two time periods in one.
Before it's here, it's on the Bloomberg Terminal.
LEARN MORE