business
McDonald's Pursuit of the Perfect French Fry
By shining a spotlight on the food chain, it risks exposing flaws
By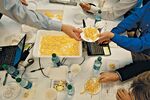 Barbara Booth wants her french fries to be like "walking on freshly fallen snow." That's a rather abstract goal for a fried potato drizzled with salt, but whatever her method, it's working. McDonald's serves up 9 million pounds of its "world famous fries" globally each day, and Booth, the company's director of sensory science, insists taste and consistency are crucial to that number.

On Feb. 22, she presided over the semiannual French Fry Evaluation, a three-way contest among the chain's top U.S. suppliers of spuds—McCain Foods, ConAgra Foods' Lamb Weston, and J.R. Simplot. Ken Haynes, director of global quality at Lamb Weston, says he and his rivals spend weeks prepping for the big event. Sampling began at 9 a.m. with the 15 tasters crowded around a large, rectangular table. "Close your eyes," Booth directed. "If you can't tell what you're eating in three seconds, there's a problem."
The men and women sniffed, sampled, and spit fries in a ritual akin to a wine tasting. Meanwhile, the sensory czar monitored for black spots, dehydrated ends, and limp fries, all of which detract from a sample's score. Eighty minutes later, a winner was declared: Lamb Weston, which for the second time in a row triumphed with a sample from its plant in American Falls, Idaho.

The artisanal approach to fast food is increasingly a demand of consumers. Upstart chains such as Five Guys Burgers & Fries and Smashburger have attracted diners looking for a better patty, and in an age of social media and hyper-informed consumers, the world's largest burger chain is being pressed to open up about the provenance of its meat, veggies, and more. In January, McDonald's began featuring flattering profiles of its suppliers on its website. In one video, Frank Martinez, a grower in Warden, Wash., brushes the dirt from a spud, slices it, and pronounces it a "good potato!"
While McDonald's took to Twitter about two years ago to get feedback on its menu and stores, social media chief Rick Wion says he and his nine workers are now focusing the online conversations on suppliers and food origin. "We're continually looking at ways we can promote our suppliers and talk about what goes into our supply chain," Wion says. "We get questions about it all the time."
Sales growth at stores open at least 13 months exceeded 5 percent last year, vs. 2 percent at Wendy's company-run locations in North America and a 0.5 percent decline at Burger King. Still, the company isn't complacent. "They want to make sure that they are not losing business to competitors that do a better job at communicating this type of message," says Mark Kalinowski, an analyst at Janney Montgomery Scott.

Last year, McDonald's U.S. president, Jan Fields, e-mailed franchisees pointing out the industry has been "negatively impacted" by "food and product safety concerns." Fields added that "our ultimate success will require a fundamental shift in how we approach brand trust and how we incorporate these efforts into everything we do."
In February, the purveyor of the McRib sandwich said it will require its pork suppliers to phase out the confining gestation pens that animal-rights groups have long deemed cruel to sows. The move follows that of Chipotle Mexican Grill, which more than a decade ago began requiring its suppliers to raise pigs outside or in large cages.
Chipotle and Five Guys Burgers often stress that they procure a lot of their products locally. Some Five Guys locations post signs identifying the specific farm where their potatoes come from, while the burrito seller tries to buy veggies from farms within 350 miles of a restaurant. McDonald's should move cautiously in telling its food and supply-chain story, says Richard Adams, a San Diego-based restaurant franchisee consultant and former McDonald's store owner. "There's no way that they can keep up with the smaller chains in terms of sourcing locally," says Adams, who says there's nothing wrong with McDonald's food. "They have to be careful they don't overpromise."
Before it's here, it's on the Bloomberg Terminal.
LEARN MORE