Foreign Beermakers Raise a Glass to China
Global brewers hope to move more mainland customers upmarket
Bloomberg News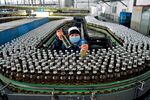 Not so long ago Lu Yizhi found foreign beer an expensive indulgence. Now the 32-year-old tour guide is feeling flush, and he's not reluctant to pay a premium for a brew with an international pedigree. "I like the heavy taste of imported brands, especially the European ones," Lu says as he sips a mug of Heineken and keeps an eye on a soccer game between AC Milan and FC Barcelona in a sports bar in Shanghai. "I don't mind paying a few yuan more."
Overseas brewers are counting on drinkers such as Lu to help them shore up profits in the world's biggest beer market. Although local beers often sell for less than 2 yuan (32¢) a bottle, foreign makers are stepping up efforts to persuade drinkers to switch to brands such as Anheuser-Busch InBev's Budweiser—at more than triple the price of domestic brews. "Foreign premium beer has become more and more popular, especially among young people with more education and income and a greater acceptance of foreign goods," says Olive Xia, an analyst with Core Pacific-Yamaichi International in Shanghai.
China's per capita beer consumption stands at about 35 liters annually, less than half the U.S. level and a quarter of the consumption of Czechs, the global leaders. So foreign brewers see plenty of opportunity. Beer sales in China rose 4.8 percent last year, to 47.5 billion liters. By 2016 they could top 61 billion liters with sales growth of premium brands set to outpace that of economy brews, market researcher Euromonitor International predicts. "Premium beer is mainly for gatherings of friends and family, when consumers are willing to pay more for brands that give them status," says Doreen Wang, head of branding at marketing consultancy Millward Brown.
Brewers are making their packaging more attractive to win higher-spending customers. Budweiser is now sold in cans topped with gold-colored aluminum foil to protect the lid from dust and give it an upscale image. And Carlsberg on April 18 launched its high-end Tuborg brand in China with a pull-off top that the company says lets drinkers quickly get to their brew without waiting for a bottle opener. Tuborg "is going to be one of the key drivers of the company" in China, says Stephen Maher, chief of the Danish company's operations in the country.
Overseas companies are acquiring breweries, or setting up new ones, across the country to widen the reach of their premium brands. Japan's Asahi Group Holdings, which entered China in 1994 and in 2009 bought a stake in China's Tsingtao Brewery, plans to support local partners to compete at the lower end while it focuses on the high end. It's trying to establish the brand image of its Asahi Super Dry beer by asking local bars and Japanese restaurants to serve it draft-style from kegs, which is less common in China.
The four biggest players—China Resources Enterprise, a partner of SABMiller; A-B Inbev; Tsingtao; and Beijing Yanjing Brewery—already account for 59 percent of the beer sold, according to Euromonitor. Over the past two years those companies and others have spent a total of $1.7 billion in 18 deals for breweries in China as they scrambled to snap up local partners and build market share. Still, slowing growth in China may cut consumer demand. The government has set an economic growth target of 7.5 percent this year, the lowest goal since 2004. "If China's economy is trending downward," says Jason Yuan, an analyst at UOB Kay Hian in Shanghai, "high-end beers may see sales drop more than local ones."
Before it's here, it's on the Bloomberg Terminal.
LEARN MORE