Disney Bets on 'The Avengers' After 'John Carter'
After the John Carter flop, the company bets on The Avengers
by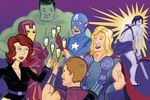 In the months prior to the release of Walt Disney's John Carter sci-fi epic, Hollywood debated why the film wasn't catching fire with potential moviegoers. Maybe it was the ho-hum trailers; a title that didn't cue viewers that the story took place on Mars; or the departure of the studio's marketing chief two months before its release.
In the end, John Carter did make headlines—just not the kind movie studios want. After losing $200 million on the film, Disney is mounting a superhero-style marketing campaign to ensure its next big-budget release, Marvel's The Avengers, doesn't suffer the same fate. (Update: On Apr. 20, Rich Ross, the chairman of Disney's film unit, stepped down.)
To raise awareness of the film, which opens on May 4, Disney's interactive unit designed a film-linked online game, its theme parks division covered a Florida monorail with ads for the flick, and the Disney XD cable network for tween boys is running an updated Avengers cartoon. More than 13 million people have watched the movie's trailer on YouTube. "It's quite a contrast to another recent Disney effort," says Jeff Gomez, founder of Starlight Runner Entertainment, an Internet consultant that advises studios. "There are a number of elements that are unprecedented."
A lot is riding on The Avengers, the first Marvel film Disney has marketed and distributed since buying the comic book company for $4 billion in 2009. Under Ross, the TV executive who became studio chairman in October of that year, Disney has cut its number of movie releases in half, betting on fewer films to boost profits. The downside risk of that approach was showcased in neon lights by John Carter's disappointing performance, which will result in a second-quarter loss of as much as $120 million at Disney's studio unit.
So far, Disney's marketing blitz seems to be working. Phil Contrino, editor of BoxOffice.com, says The Avengers added more than 65,000 "likes" on Facebook last week and is receiving as many as 17,000 tweets a day, "a very impressive surge for a movie that's still two weeks away from opening." Contrino estimates the film may generate domestic ticket sales of $155 million on its opening weekend and a grand total of $370 million in U.S. and Canadian theaters during its run. That's more than five times the total domestic box office of John Carter and a bigger opening than Lionsgate's The Hunger Games, which last month logged the third-largest debut of all-time at $152.5 million, according to Box Office Mojo. "I don't think there's any need to worry about this one," Contrino says. "It's a sure thing."
The Avengers, about a team of the planet's mightiest heroes battling to save earth, stars Robert Downey Jr. and Scarlett Johansson, reprising their roles as Iron Man and the Black Widow from 2010's Iron Man 2. That film posted $624 million in worldwide ticket sales for its distributor, Viacom's Paramount Pictures, on a budget of $200 million, according to researcher Internet Movie Database. Disney spent an estimated $220 million producing The Avengers, $30 million less than on John Carter, according to IMDb.
Disney has been stoking interest in The Avengers since at least July 2010, when the stars and director Joss Whedon appeared at the annual Comic-Con International convention. Disney's last Iron Man installment and its 2011 release Captain America: The First Avenger included teasers for the new film. This year, Disney gave away free screenings in 10 cities where the most Facebook users signaled they liked The Avengers; more than 1 million did so. The trailers also have broken records for downloads on Apple's iTunes.
Playdom, acquired by Disney in 2010, created its first social game for a Disney product. Introduced on Facebook last month, Marvel: Avengers Alliance has 640,000 daily users, according to researcher AppData. Disney also lined up an estimated $100 million in Avengers-related marketing by partners including Hershey, motorcycle maker Harley-Davidson, hotelier Wyndham Worldwide, and Honda Motor's Acura, a record for Marvel, according to the trade publication Variety.
David Funk, senior vice president for sales and marketing at luncheon-meat maker Land O'Frost, began discussing a sponsorship with Marvel a year ago. He declined to put a dollar figure on his company's effort, which includes a sweepstakes for an Avengers-themed trip to New York, supermarket displays, trading-card giveaways, and a TV commercial with a superhero mom making a sandwich. "They told us this was going to be the biggest movie in their entire portfolio," Funk says. "We figure: they're going all out, we'll go all out too."
Before it's here, it's on the Bloomberg Terminal.
LEARN MORE