British Speculators Place a Losing Bet
Failure strikes a company where customers gambled on stocks
By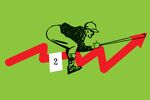 The line between gambling and investing is sometimes pretty thin, and in Britain you can erase it completely. Companies such as IG Group Holdings let clients take positions on markets without buying or selling actual securities, a practice known as spread betting.
To wager on the movements of a stock, bond, commodity, or currency, customers go to one of the companies' websites. As in sports betting, the companies try to keep the bets balanced, sometimes by adjusting the price of a transaction, so the amount of money betting on a security to fall equals the amount betting it will rise. When trades are not equally weighted, the companies can take the risk themselves or try to hedge it with other firms or in the securities markets. Almost 100,000 Britons regularly made spread bets last year, compared with 91,000 in 2010, according to Sydney-based research firm Investment Trends. Revenue from spread betting reached £900 million ($1.4 billion) last year, according to data compiled by Bloomberg.
Now the collapse of a small spread-betting company, WorldSpreads Group, has added a new dimension to the risks of gambling on the market. About 15,000 clients may lose cash in their personal WorldSpreads accounts, which were frozen last month. The London-based company was put into administration, a form of U.K. bankruptcy protection, on March 18. WorldSpreads is being investigated by regulators who are poised to seek a police investigation, according to a person with knowledge of the inquiry, as accountants wind down the company and probe a £13 million shortfall in client funds. Sorrelle Cooper, a spokeswoman for KPMG, the administrator winding down WorldSpreads, declined to comment.
The Financial Services Authority, the U.K. securities regulator, has said it plans to increase scrutiny of spread-betting companies and other firms that hold client funds in the wake of the demise of WorldSpreads and the October collapse of broker MF Global Holdings, whose customers may be out $1.6 billion, according to its bankruptcy trustee. "It's a woeful situation," says Richard Jennings, a former fund manager at West Yorkshire Pension Fund in Leeds. He had more than £100,000 in his WorldSpreads account when it collapsed. "We want some answers from the administrators."
Spread betting is reminiscent of the bucket shops that flourished in the U.S. in the late 19th and early 20th centuries. Bucket shops, which catered to investors who couldn't afford to trade with brokers, were outlawed in most states by 1920, according to David Hochfelder, a history professor at the University at Albany, part of the State University of New York. In Britain, spread betting was developed in the 1970s by Stuart Wheeler, a banker who set up a system that allowed his wealthy friends to bet with each other on the price of gold. Wheeler founded Investors Gold Index, now known as IG Group, the U.K.'s biggest spread-betting firm. It wasn't until the new millennium and the rise of the Internet that the industry really took off.
"It's a local peculiarity," says James Hamilton, an analyst at investment bank Numis Securities in London. Spread betting is popular with brokers, bankers, and professionals such as doctors and lawyers who use it to speculate with their personal savings, says IG Group Chief Executive Officer Tim Howkins. Part of its appeal is that it's considered gambling, not investing, so people don't pay taxes on their winnings unless wagering is their primary source of income. The government isn't shut out, though: It levies a gambling tax that's built into the price of trades. "I'm sure the government has had a look at this and decided it's not worth taxing because most customers lose money," says Hamilton.
IG Group, CMC Markets, City Index, and Gekko Global Markets—which are not the subject of any regulatory actions—have written to clients to assure them their funds are held in bank accounts that are separate from the firms' working capital. "Small, badly managed firms occasionally fail," says Howkins. "It's not something that's unique to our industry."
While the companies say they have seen no falloff in business, some customers are disillusioned. "I have lost my confidence in this industry," says Christian Vasseur, a Frenchman who says he can't gain access to €10,000 ($13,121) he put in his WorldSpreads account on March 16. Sam Austen, a London trader who uses several betting companies, will continue to speculate, especially on small emerging-market stocks. "I don't have infinite faith in anything, particularly the financial world," says Austen, who had less than £5,000 in his WorldSpreads account. "It felt like a theft. It was a good reminder of the precariousness of the financial system."