Going Green: MBA Sustainability Programs
Francesca Di Meglio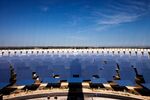 Many business schools are including sustainability programs among their MBA offerings because business opportunities in the field have increased. "We're talking about business strategies as they relate to sustainability," says Andrew Hoffman, professor and director of the Erb Institute, which is a joint-degree program between University of Michigan's Ross School of Business and the School for Natural Resources & the Environment. "Sustainability is a business opportunity that compliments the MBA." From clean energy to programs to reduce a company's carbon footprint, sustainability knowledge is in practical demand. In honor of Earth Day (April 22), here is a list of some interesting programs that focus on sustainability:
Erb Institute at University of Michigan
In three years, students of this program earn MBA and MS degrees from two schools, with enough time to take on a pair of internships if they want to experiment with diverse, relevant fields. They must turn in a master's thesis, which usually yields a publishable paper or book. Many graduates wind up working in energy and raw materials at for-profit businesses that offer competitive salaries, says Hoffman.
Business and Environment Masters Program at Yale
The longest-standing joint degree in business and the environment has been offered since 1982 by the Yale School of Management and the School of Forestry & Environmental Studies. The program is enhanced by the existence of the Yale Center for Business & the Environment and the Business & Environment Club at SOM. Graduates receive an MBA and a degree in either environment or forestry.
Sustainable Enterprise Concentration at UNC Kenan-Flagler
About 30 percent of the MBA Class of 2012 at the University of North Carolina's Kenan-Flagler Business School completed this concentration. These students take required courses in the business school and at other UNC schools in areas such as public policy, international studies, social work, city and regional planning, and environmental studies. A strong Net Impact club and a center for sustainable enterprise are among the tools at students' disposal. As part of their capstone project, students travel to East Africa to help local groups confront business issues.
MS Environment and Resources/MBA at Stanford
This joint-degree program between Stanford Graduate School of Business and the School of Earth Sciences focuses on the science, engineering, and technology required to address environmental problems. A capstone project demands that students demonstrate an ability to integrate all three. The Aspen Institute recently ranked Stanford Graduate School of Business No. 1 in its Beyond Grey Pinstripes ranking for the school's "curriculum, research, experiential learning, and commitment to corporate social responsibility and environmental sustainability."
Specializations in Corporate Social Responsibility and Energy and Clean Technology at Haas
The UC-Berkeley Haas School of Business offers a general management MBA with specializations in corporate social responsibility and in energy and clean technology. Both specializations require students to work on real-world projects.
Specialization in Social Innovation and Impact at NYU Stern
This specialization at New York University's Stern School of Business is complemented by the Social Impact Internship Fund, which provides funding for students who pursue internships in the social sector, and a student-led task force, the Stern Campus Greening Initiative, which creates green initiatives at both the undergraduate and graduate level. "The size and complexity of the problems—and opportunities—facing business today require leaders who understand the linkages between the financial and the real economy, between business and policy, and who can balance the quest for profit with a responsibility to the public good," writes Jill Kickul, professor and director of Stern's Stewart Satter Program in Social Entrepreneurship. "Tomorrow's global business leaders must be forward-looking to succeed."
Join the discussion on the Bloomberg Businessweek Business School Forum, visit us on Facebook, and follow @BWbschools on Twitter.
Before it's here, it's on the Bloomberg Terminal.
LEARN MORE