How Tupac Became a Hologram (Is Elvis Next?)
James Cameron's special effects company, Digital Domain, claims credit for the late rapper's appearance at the Coachella music festival.
By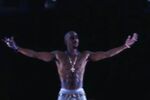 Tupac Shakur played the Coachella Valley Music and Arts Festival last weekend—at least, a computerized likeness of him did. A hologram of the rapper, who was killed in 1996, appeared on stage and performed two songs 2 Of Amerikaz Most Wanted and Hail Mary, alongside his still-living contemporaries Dr. Dre and Snoop Dogg. At the end of the act, hologram Tupac exploded into an impressive light display.
The performance was the result of a four-month collaboration between Dr. Dre's production company, James Cameron's Digital Domain, and two hologram-imaging companies, AV Concepts and U.K.-based Musion Systems. (The latter is responsible for the Gorillaz's cartoon holograms that performed with Madonna at the 2006 Grammy awards.) Although Tupac is not the first performer to have been posthumously turned into a hologram—in 2009, a digital Frank Sinatra sang at Simon Cowell's 50th birthday party—he is the first to give a performance that wasn't rendered while he was alive.
"This is not based on archival footage," says Ed Ulbrich, chief creative officer at Digital Domain. "This is not him performing at some point. This a completely original, exclusive performance only for Coachella and that audience." In other words, it's a digital likeness of Tupac designed to interact with his co-performers and the crowd. At one point, Tupac even shouts "What the f— is up, Coachella!" even though the music festival didn't exist until three years after his death.
The idea for the Tupac hologram came from Dr. Dre, who at this time is not granting interviews about the project (which means we'll have to wait to find out how he got Tupac to say "Coachella"). Dre approached Digital Domain—which won an Oscar for its lifelike interpretation of an 85-year-old (and 25-year-old) Brad Pitt in 2008′s The Curious Case of Benjamin Button—about how to employ the company's technology for a live venue.
"We tried to make him aware of how hard it was going to be," says Ulbrich. "No one has ever seen Brad Pitt at age 85, so there was room for error there; we could interpret him a little bit." But Tupac had been a real person. And while living artists can pose for measurements before they're turned into holograms, "we don't have the benefit of Tupac to help us inform and guide the performance of him," says Ulrich. The company created the digital Tupac from video footage and photos of the rapper. "And quite honestly, it was Dre and Snoop who had to guide us. He is their friend and they know him," says Ulbrich.
Neither Digital Domain nor AV Concepts would divulge how much the project cost, although previous endeavors, such as when the Black Eyed Peas performed at a French awards show in 2011, have cost several hundred thousand dollars. The extra work built into this project likely means that Tupac cost a bit more. Still, that's much less than the well-over $1 million that a living, breathing festival headliner would have demanded from concert promoters.
Deploying a hologram in an outdoor concert presents a number of problems that can be avoided amid a more traditional environment, says Nick Smith, president of AV Concepts, the company that helped stage the actual performance. "You can't fight daylight. It's not a controlled environment, and there are some outdoor conditions and ambient light" that aren't conducive to something like this, he says. Plus, there's always the chance of rain.
There's a significant weird-out factor to holograms. The public seems both fascinated and confused by them. When CNN introduced its hokey hologram of a news reporter during Wolf Blitzer's 2008 Election Night coverage, the technology was universally mocked. The Chicago Tribune even called it "a little bit creepy." When the TV network used hologram stick figures in its coverage of the 2012 Iowa Caucus results, Anderson Cooper made fun of them live, on air. Compared to this, those were just crazy special effects. The Tupac hologram is as close as we've come to raising the dead. How long will it be before we send Elvis Presley back to Vegas?
"While we've demonstrated that we can certainly do that," says Ulbrich, "that's not really our business model." Instead, he's more excited by the fact that such a realistic hologram was created in just a few months. "It took us two years to do Benjamin Button," he said. "Now that we've developed the tools to do this, we can start to look at other applications—advertising, commercial work; until now things like this haven't been feasible." As technology advances, Ulbrich thinks digital projections of living, dead, and fictional people may become more common. His goal is to one day create a hologram that people won't realize is fake. "Nothing is real and everything is possible," he says.
Before it's here, it's on the Bloomberg Terminal.
LEARN MORE