Will Rupert Murdoch Get Another Shot at BSkyB?
James Murdoch's resignation may help his father win BSkyB
By , , and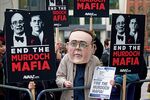 To borrow a phrase, all happy exits are alike; every unhappy exit is unhappy in its own way. In the case of James Murdoch, the son of Rupert Murdoch who announced his resignation as chairman of British Sky Broadcasting Group on April 3, the exit looks like a ritual sacrifice. The 39-year-old James is expected to be targeted for criticism in an upcoming parliamentary report into phone hacking at News Corp.'s U.K newspaper unit. While that alone could have precipitated a departure, analysts suggest that something far more strategic is under way. "News Corp. would like to revive its bid for BSkyB in due course," says Claire Enders of Enders Analysis, a London-based media consultancy. "It is in the interest of News Corp. to have it appear and come across as a transaction as opposed to a Murdoch issue."
A government committee is studying whether limits should be placed on media ownership in Britain, while a U.K. regulatory panel, Ofcom, is weighing whether News Corp. and James Murdoch are deemed "fit and proper" to own and manage the pay-TV company.
According to three people familiar with the matter who could not be identified because they were not authorized to speak publicly, James volunteered to step back from his prominent role at BSkyB and was not pushed. His reduced role will allow him to focus on the upcoming parliamentary report and a probable appearance before a judge-led inquiry into media ethics in the U.K., say two people who worked with him closely. A News Corp. spokeswoman declined to comment on any speculation about the company's interest in BSkyB. (Bloomberg LP, the owner of Bloomberg Businessweek, competes with News Corp. in providing financial news and information.)
Although the phone hacking scandal derailed the BSkyB deal last July, one former News Corp. executive says Rupert Murdoch has never given up his dream of owning the potent money machine. BSkyB earnings contributed $498 million, or more than 18 percent, of News Corp.'s net income of $2.7 billion in the year ended June 2011. The company, with more than 10 million subscribers, has held exclusive rights to Britain's top soccer games since 1992. The broadcaster's subscription model makes it easier to generate secure and rising sales than newspapers, which rely on the volatile advertising market. And BSkyB has focused on selling additional products including broadband and telephone service, to squeeze more money from existing customers.
Owning BSkyB outright would generate as much as $800 million in free cash flow annually for News Corp. and could be used for acquisitions, says analyst David Joyce of institutional brokerage Miller Tabak. Strategically, BSkyB would give Murdoch a complete distribution system that would fit nicely with his other television assets, says Joyce. "The idea of having both content and distribution could be powerful," he says. "It would help Murdoch roll out new content on those networks and get advertising for any new channels."
No one envisions any deal moving forward until the phone hacking scandal is resolved, however, and that won't happen until well into 2013, at the earliest. One of the men who works closely with James says the long-range plan at News Corp. would be to build up the company's TV assets, which include Fox in the U.S. and pay-TV operations in Asia, because they are more profitable than the newspapers. That plan would eventually lead to a renewed BSkyB bid, he says. Murdoch's ownership of the U.K.'s highest-circulation paper, the Sun, along with the Times and the Sunday Times, is likely to remain an obstacle to full ownership of BSkyB, which offers Sky News.
One former executive pointed to Rupert Murdoch's designation last August of Chief Operating Officer Chase Carey as his heir apparent as evidence that the sale of the company's U.K. newspapers, formerly an unthinkable prospect, might be possible. Carey has said News Corp. remains committed to newspapers, and that dailies are part of the company's DNA, but unlike his boss, who inherited his first newspaper from his father, Carey has no sentimental attachment to print media.
James's decision to give up his position as executive chairman of BSkyB, while retaining a seat on the board, hasn't mollified opponents of the company's dominant position in U.K. media. Harriet Harman of the opposition Labour Party says, "Changes at the top of BSkyB should not distract us from the fundamental, structural problems of media ownership. Murdoch owns too many newspapers. Never again must we allow any individual or organization to acquire such a concentration of power."
Before it's here, it's on the Bloomberg Terminal.
LEARN MORE