The Secret Strength of Pakistan's Economy
Most businesses pay no tax, starving the state of funds
by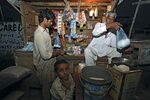 It's early morning in Karachi, Pakistan's biggest city, and Muhammad Nasir is outside his makeshift shelter of palm leaves, rags, and bamboo, washing up after breakfast. He uses water stolen from a nearby supply pipe that belongs to the local water utility. The 17-year-old bids farewell to his mother, an unlicensed midwife, and walks to his tire-repair shop, an open-air stand in a residential area with a table of tools and a wooden bench. He checks to make sure the electricity he's drawing illegally from the overhead power line is on so he can run his tire pump. Then he sends 10-year-old Abid, one of his two employees, along with 12-year-old Irfan, to get tea from a nearby shop.
Nasir's business, his home, his power and water supply, and even the cup of tea Abid brings him don't exist in Pakistan's official figures. They're part of another economy that doesn't pay taxes or heed regulations. It probably employs more than three quarters of the nation's 54 million workers and is worth as much as 50 percent of Pakistan's 18 trillion rupee ($200 billion) official gross domestic product. And while the documented economy had its smallest expansion in a decade at 2.4 percent in the year ended June 2011, soaring demand for cars, cement for houses, and other goods shows the underground market is thriving.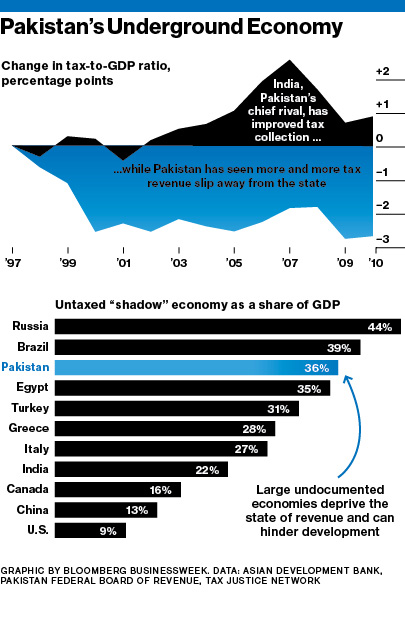 "Everything from auto parts to sports goods, knitwear, clinics, and beauty salons fall into the informal economy," says Sayem Ali, country economist at Standard Chartered Bank in Pakistan. "All these make a significant contribution to employment and income, and that's one reason why the economy is still growing. But since Pakistan has one of the worst tax structures in the world, these fall under the radar."
Pakistan's tax-to-GDP ratio—that's taxes as a share of gross domestic product—was 8.6 percent in June, one of the world's lowest, according to Macroeconomic Insights in Islamabad. Only 25 percent of the economy is taxed if the undocumented sector is taken into account, says Chief Executive Officer Sakib Sherani. Developing economies usually have a tax-to-GDP ratio of from 13 percent to 18 percent, according to Invest Capital Markets, a brokerage in Karachi. Former Finance Minister Shaukat Tarin said in 2010 that Pakistan loses 800 billion rupees a year in tax evasion: The government collected 1.7 trillion rupees in tax last fiscal year. That's not enough to close the budget gap, which is 6.3 percent of GDP.
Nasir says he pays 200 rupees a month to employees of the utility company to look the other way, and 400 rupees to the police to allow him to run his unregistered shop. Then there are the occasional political contributions to local parties—protection money, in other words, to keep the parties' criminal components at bay. "I don't think paying taxes to the government will do any good to me," says Nasir. "We are already paying taxes."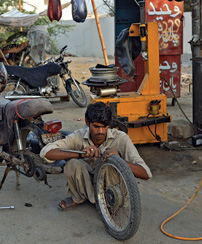 He spends the morning repairing tires and fixing motorbikes, taking payments in cash and never issuing a receipt. At lunchtime he sends for salad and yogurt or lentil curry from one of the nearby pushcart vendors, none of whom is licensed. His mother and sister, a maid, supplement the family income with jobs in the informal sector. After work, a religious teacher comes to give them lessons on the Koran at home, charging a monthly fee in cash that isn't reported to the government. Once a month, Nasir pays 300 rupees rent to a man who illegally settled on the land where Nasir's family dwelling was built.
Only 1.5 million people, less than 1 percent of the population, file tax returns, according to the finance ministry. That compares with 3 percent in India. "A low tax-to-GDP ratio means we get into a vicious cycle of high budget deficits financed by printing money or borrowing, which adds to the debt burden and creates inflationary pressures," says Asad Sayeed, director of the Collective for Social Science Research in Karachi. Pakistan has the fastest inflation in Asia after Vietnam, and its budget gap may expand to 7 percent of GDP in the year ending in June, according to the IMF.
To narrow the budget gap, Prime Minister Syed Yousuf Raza Gilani's government has cut spending on roads, bridges, and other building projects. That won't stop Lucky Cement, Pakistan's biggest publicly traded construction company, from posting record earnings this year on demand for new houses. "The population is growing and there is a lot of potential on the domestic side," says Abid Muhammad Ganatra, Lucky's director of finance. He adds that domestic demand for cement may rise to 30 million tons from 24 million in the next two years.
The undocumented demand from Pakistan's 179 million people means the nation's purchasing power is more than estimated, says Nadeem Naqvi, managing director of the Karachi Stock Exchange. Rising crop prices have pumped an extra 1 trillion rupees into the rural economy in the past four years, most of it undocumented, Naqvi says. He estimates agriculture may account for as much as 35 percent of GDP, instead of the 21 percent reported.
Evidence of consumer demand is everywhere as new shopping malls and restaurants in Karachi are filled to capacity. Car sales rose 14 percent in February from a year earlier, as more people could afford a Toyota Corolla or Suzuki Mehran (a small hatchback), according to the Pakistan Automotive Manufacturers Association. More than half a million motorbikes hit the road in the eight months ended February, a 5 percent increase, perhaps a sign that Nasir's tire business has a bright future.
Prime Minister Gilani has pledged to increase the tax-to-GDP ratio to 15 percent by 2014, by collecting more taxes on farms and property, and curbing corruption among tax officials that may account for 500 billion rupees in uncollected taxes a year. "Bad governance promotes the underground economy," says Ashfaque Khan, dean of NUST business school in Islamabad. Undocumented activity also leaves workers vulnerable, as employers aren't bound by labor laws, says Karamat Ali, executive director of the Pakistan Institute of Labour Education & Research.
Securing Parliament's support for a crackdown won't be easy. "Different parts of the undocumented sector represent the constituencies of different political parties," says Syed Shabbar Zaidi, a partner at accountants A.F. Ferguson in Karachi who is a member of the finance ministry's revenue advisory council. "The rural areas and agriculturists represent one party's constituency so they won't touch it. Traders and retailers represent another party's vote bank so they won't touch that." Earlier attempts to capture revenue from the undocumented economy have backfired. After the government imposed the first-ever sales tax—at 16 percent—on tractors in March 2011, above-ground purchases of the vehicles hit a low of just 369 units in January, from 5,673 a year earlier. Tractor makers Fiat and Massey Ferguson suspended local production, forcing the government to cut the tax to 5 percent.
The rhythms of life in the underground economy remain largely undisturbed. After work, Nasir and his friends sometimes hire a rickshaw to head to the beach or to a religious festival. The driver, part of the flourishing local transport business, doesn't turn on the meter because he doesn't have one. On his way home, Nasir stops to buy cooking oil, wheat flour, and sugar at a small grocery store that isn't officially there. Out of about 1 million shops, up to 400,000 are grocery stores, and most of them are not registered and don't pay taxes, according to Rafiq Jadoon, president of the City Alliance of Markets Association. In the evening, Nasir unwinds in front of the television. He watches an Indian movie transmitted by a local cable operator to whom he pays a monthly fee—in cash.
Before it's here, it's on the Bloomberg Terminal.
LEARN MORE