Small Business Makes a Risky Bet on Health Care
A shift toward self-insuring could threaten health reform
By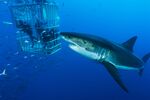 SouthCoast Medical Group had long provided health insurance to its employees the conventional way, paying premiums to an insurance company that covered medical claims. Then in January 2011 the 65-doctor practice with offices in and around Savannah, Ga., opted to take on more of the risk itself.
SouthCoast thought it could save money by self-insuring, a strategy typically used by much larger companies. Today it pays directly for the medical care of the 280 staffers and family members on its plan, setting aside the cash it would have spent on premiums to cover claims and paying an administrator to process them. To limit its risk, the group also purchased "stop-loss" insurance that would kick in after any individual's medical bills exceeded $100,000.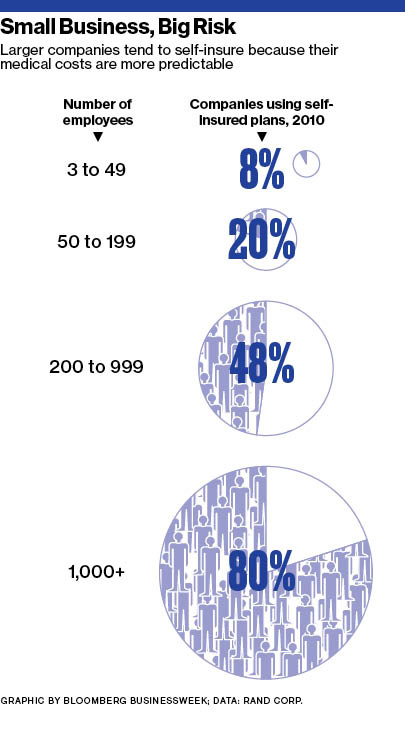 The approach is common for corporations with thousands of employees, where the cost of care and the attendant risk is spread out over large numbers of people. For small employers, though, one car accident or organ transplant can push expenses far above the expected level. Still, with premiums for traditional policies continuing to rise, small businesses are increasingly ready to roll the dice. Some 20 percent of companies with 50 to 199 workers self-insured in 2010, up from 14 percent four years earlier, according to a Rand Corp. analysis commissioned by the U.S. Department of Labor. Until recently, insurance broker Craig Hasday advised against self-insurance for any company with fewer than 500 workers. Now, "we're putting it on the table for every group over 100 employees," says Hasday, chief operating officer of New York brokerage Frenkel & Co.
That could spell trouble for the state insurance exchanges expected to launch in 2014. In those markets, premiums will reflect the total risk of all the people insured, so companies with younger and healthier workers may decide they're better off self-insuring to avoid subsidizing others with higher medical costs. "It makes the risk pool worse," Hasday says. The Rand report warns that such "adverse selection could lead to a 'death spiral' " where only companies with high-risk workers are left in the exchanges, pushing up premiums.
Self-insured plans are governed by federal law and not states, which typically oversee health insurance. Some regulators fear that insurers attempting to avoid state taxes on insurance premiums and skirt state laws requiring minimum benefit levels will offer plans that are self-insurance in name only. One way they can do that is with stop-loss policies that start paying out at very low levels, after as little as $10,000 in claims, which sharply reduces the risk companies face. If "the employer is not in fact bearing the risk and the insurance company is, then the states take a look," says Sabrina Corlette, a researcher at the Georgetown University Health Policy Institute. New York and Oregon already forbid insurance companies from selling stop-loss insurance to groups with fewer than 50 employees, and California's insurance commissioner wants to outlaw the sale of certain stop-loss policies to small businesses.
Self-insuring appeals to employers because dollars not spent on medical care stay in the company instead of flowing to the insurance carrier's bottom line. The approach also gives businesses more detailed information about how their workers use health care. Claims data, which insurers are often reluctant to share, can help companies tailor plans and wellness programs to improve workers' health by helping them quit smoking or lose weight.
For small employers, self-insurance programs can bring unexpected problems. In its first year of self-insuring, SouthCoast faced a spike in major claims that ate up 60 percent of its reserves. When the company's stop-loss policy came up for renewal, the premiums more than doubled, to $250,000, because of the costly claims, even after SouthCoast agreed to take on an additional $25,000 of risk per employee. The total cost to SouthCoast—including claims, stop-loss coverage, and administrative fees—jumped 25 percent, says Chief Financial Officer Gary Davis. Traditional insurance, though, would cost double what the company spent last year, he estimates. "You have to keep your eyes open that it's a risk," says Davis. "One out of every five or six years, you're going to have a bad year."
Insurers offering stop-loss policies sometimes protect themselves with what the industry calls "lasering." That's when they raise the dollar amount the employer must pay before stop-loss kicks in for certain workers deemed to be high-risk—which can shift even more cost to employers. The practice can be "devastating" to small businesses, says Carl Mowery, a managing director in consultancy Grant Thornton's compensation and benefits practice. Employers pay more up front for guarantees that they won't have sick workers carved out later on, but Mowery says small businesses should insist on that protection to avoid being overwhelmed by catastrophic claims. "A premature baby who has a lot of health issues could be a million-dollar claim in a single year," he says. "That could be twice as much as [small companies] pay in health premiums altogether."
Any benefits from self-insurance don't materialize overnight, cautions Sam Fleet, president of AmWINS Group Benefits, a wholesale insurance brokerage in Charlotte. "You need an engaged employer, and it's not a one-year savings," he says. Fleet says small companies drawn by the promise of lower costs may not fully grasp the risk involved. "What scares me is there are a lot of people out there that recommend self-funding to employers," he says. "It's really, really important that you understand what you're getting into."
Before it's here, it's on the Bloomberg Terminal.
LEARN MORE