Once High-Flying, JetBlue Returns to Earth
An airline known for making its fliers feel special faces the industry's very ordinary problems
By and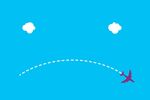 Ten years ago this week, JetBlue Airways staged a festive initial public offering at the Nasdaq marketplace in New York's Times Square. Although September 11 had plunged the airline industry into record losses, the then-two-year-old carrier was the envy of its peers. Out of the gate, it was funded by venture backers and strategically hubbed at New York's John F. Kennedy International Airport. It boasted brand-new, leather-seat-equipped Airbus A320s and fanatically loyal customers drawn to its free in-flight TV and help-yourself snacks. Its low costs and tight-knit company culture—founder and Chief Executive Officer David Neeleman could often be seen helping flight crews vacuum planes between runs—seemed set to reinvent the industry. JetBlue stock soon tripled as larger rivals Delta Air Lines and United Airlines rushed (unsuccessfully) to launch their own cheery, low-cost spinoffs.
With founder Neeleman long gone and shares 80 percent off their high, JetBlue now finds itself bereft of much luster. A JetBlue pilot's midair meltdown on March 27 was the latest in a string of very public mishaps, starting with passengers getting stranded on a plane for up to 11 hours during a February 2007 ice storm and a flight attendant bolting the plane's exit chute after cursing passengers in August 2010. JetBlue now ranks last among 15 airlines in on-time performance and ninth in customer complaints to the Department of Transportation—three times Southwest Airlines' complaint ratio. The tables have turned. A vastly consolidated airline industry once again favors major carriers with expansive route maps and a preponderance of business travelers—things JetBlue lacks.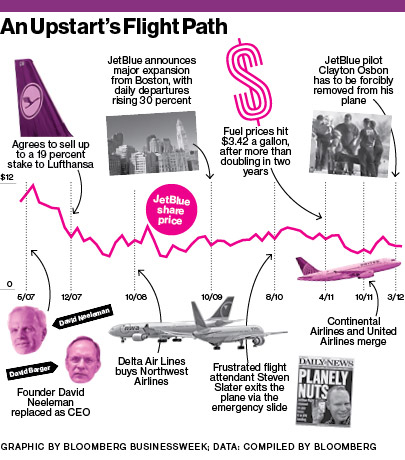 JetBlue isn't immune to the industry's bane: soaring fuel costs. Ten years ago jet fuel cost an average of 71¢ a gallon; JetBlue now pays an average of $3.15. Higher fuel costs represented 71 percent of its yearly increase in operating expenses. Spokeswoman Allison Steinberg says part of the jump was due to more people flying on JetBlue at a time when its fuel costs surged 30 percent in a year.
That practice of adding flights and routes—thus incurring more operating and capital expenses—while the rest of the industry is shrinking to cope with fuel costs is what bothers Dahlman Rose analyst Helane Becker. JetBlue increased its capacity by 7 percent last year, as it continued to add routes attractive to higher-fare corporate fliers. "We're concerned about their expansion into the business traveler," Becker says. "JetBlue started as the airline for the New York leisure traveler. They don't have the route structure or the miles to compete with the majors for business dollars." JetBlue's Steinberg says the airline is making headway among business fliers, especially in Boston, its fastest-growing market.
That's a switch from JetBlue's initial focus on leisure travelers and service to less-crowded airports from its hub at JFK. But during much of the recession, whenever a major carrier retrenched somewhere, JetBlue would quickly target expansion opportunities. It now plans to have 45 nonstop routes out of Boston by next month, and it's expanding service out of San Juan. As American Airlines began dismantling its San Juan hub in 2008, JetBlue has added 11 new nonstop flights from Puerto Rico to Florida, the Northeast, and other Caribbean islands. Some analysts say that expanding this way in spite of soaring fuel costs is a risk.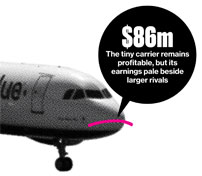 JetBlue remains profitable, having posted net income of $86 million last year, ending 2011 with about $1.2 billion in cash and short-term investments. George Ferguson, senior airline analyst at Bloomberg Industries, also notes the carrier has managed to retain the industry's lowest costs. But JetBlue can't quell investors' worries that it seems destined, despite its new routes, to remain a small player in a business where size matters. Indeed, its bottom line represents a sliver of the $800 million-plus that far larger Delta and United Continental Holdings each netted last year.
Profits aren't the only disparity. A decade of mergers, alliances, and bankruptcies has let the majors get bigger, offer more choices to frequent fliers, cut wages, and take out thousands of seats and redundant gates and routes. US Airways and America West have merged, as have United and Continental and Delta and Northwest. Even go-it-alone Southwest, Neeleman's alma mater and the model for JetBlue, nabbed routes from liquidated carrier ATA and acquired AirTran Airways.
JetBlue's route network, meanwhile, has no big code-share alliances, nor does it have the kinds of revenue-sharing opportunities other carriers have forged. Lufthansa did buy 19 percent of the airline in December 2007. But the German carrier in March announced its intention to raise money by selling convertible bonds linked to its JetBlue stake, which could trim the holding by 2017.
With the industry so thoroughly merged and allied, the question is whether JetBlue can remain independent now that rivals have bulked up. Because of congestion in the New York area, JFK is limited in how many takeoffs and landings are permitted each hour. JetBlue's slot dominance there—it's the largest domestic carrier, with 150 daily flights—would be a key asset for a potential acquirer. JetBlue's Steinberg responds that CEO Dave Barger recently reiterated at an industry conference that the carrier intends to grow organically and independently. Still, Roger King, an airline analyst with research firm CreditSights, says JetBlue could be particularly appealing to American or Delta, carriers that boast plenty of international flights into JFK but not the complementary domestic traffic United Continental enjoys at its Newark trans-Atlantic hub.
If now-bankrupt American reorganizes successfully and Delta senses a competitive threat in New York, both carriers might try to woo JetBlue, says William Swelbar, an aviation researcher at Massachusetts Institute of Technology and Hawaiian Airlines director. On some routes, American already has frequent-flier reciprocity with JetBlue and is likely to expand its code-sharing after its bankruptcy. An acquired JetBlue, he says, could benefit as a unique brand within a larger airline. "What makes JetBlue kind of hard to integrate is that it's got its culture, it's got its cult following. And to desert that does damage to the very franchise that you're looking to buy." Indeed, JetBlue is the only four-star-rated domestic carrier on Skytrax's airline rankings. Ferguson, however, says that's only worth so much these days: "At the end of the day, it's a bus ride in the air.
Before it's here, it's on the Bloomberg Terminal.
LEARN MORE