If RIM Folds, What Happens to Waterloo?
The decline of Research In Motion may prove a boon for its hometown
By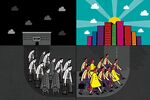 When BlackBerry maker Research In Motion released its quarterly earnings on March 29, few paid attention as closely as the residents of Waterloo, the small Southern Ontario city where RIM is based. Despite sales of $4.19 billion, RIM lost $125 million and nearly half of its market share compared with a year ago, now just 8.2 percent of the smartphone market that it all but created. Even after former co-Chief Executive Officer Jim Balsillie resigned from the board on March 29, a dark cloud hung over the company's future; the stock is down roughly 80 percent since January 2011. "This is the talk of the town," says Chris Zaptses, the longtime owner of a Mr. Sub sandwich franchise blocks from RIM's Waterloo headquarters. "Friends ask each other, 'What are we going to do if RIM goes down?' "
Research In Motion is the largest employer in Waterloo (pop. 98,780) and its sister city, Kitchener (the area is commonly called Kitchener-Waterloo, or KW), providing some 8,000 jobs while occupying 20 percent of the city's office space. Hundreds of millions in donations by RIM and co-founders Balsillie and Mike Lazaridis (both resigned as co-CEOs under shareholder pressure in January) have bankrolled everything from food banks and science fairs to shiny new facilities at the University of Waterloo and Wilfrid Laurier University.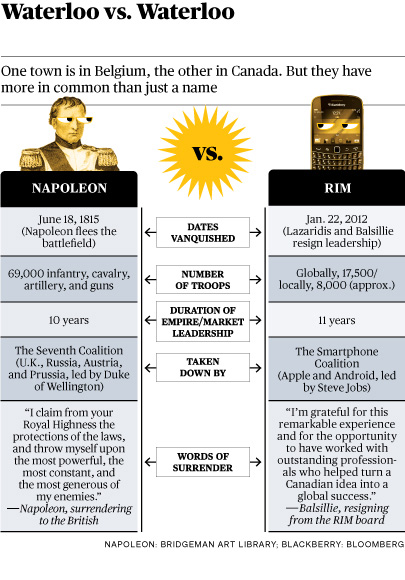 RIM still enjoys near-universal support in the community. Residents walk around excitedly talking up the new Bold 9930 handset's touchscreen, as if the iPhone were never invented. "The name Waterloo has always been synonymous with Research In Motion," says ZDNet Senior Technology Editor Jason Perlow, "just in the same way if you say 'Redmond,' you think Microsoft."
If RIM continues to fizzle, there's an under-lying fear that it could take Waterloo down with it. But those in the city's tech sector, especially its startups, argue that RIM's decline, while difficult to watch, may provide exactly the type of creative destruction that Waterloo's startup tech sector needs. "It's not as though this is an entire industry in decline," says Ben Bittrolff, CFO of Cyborg Trading Systems, a company that develops financial industry software sold globally. "We're not Detroit here."
RIM's troubles this year have already provided Cyborg with greatly improved access to talent. In the past, the universities were basically a farm system for RIM, leaving startups scraping for hires. But with RIM now less of a draw, startups attract promising new graduates and RIM veterans with coveted global experience, Bittrolff says.
Bittrolff was chatting in the communal lounge of the Communitech Hub, a 45,000-square-foot tech incubator in Kitchener that's the beacon of the region's startup hopes. Opened in late 2010, the Hub offers companies access to office space, networking, entrepreneur mentorship, business services, and capital. (Venture capitalists from around North America stop by regularly.) Currently there are around 50 startups in the Hub, including mobile gaming company InfiniDy, workforce software company TribeHR, and Balute, which makes a digital string instrument.
"The startup scene is finally starting to get some recognition," says Iain Klugman, Communitech's CEO and president. Startup growth in the region has doubled nearly every year for the past four years, he says, with more than 300 companies created in 2011 alone—"We're averaging one new company a day."
The pace of hires with blue-chip players is increasing as well. "The Waterloo region is one of Google's top talent recruiting locations, and KW is one of North America's most entrepreneurial hubs," writes Steve Woods, engineering director of Google Canada, in an e-mail. "We have grown our employee base by 100 percent in 2011, and we expect to continue growth in 2012." Google's main Canadian offices are located in the same building as the Communitech Hub.
The tech world outside Waterloo is taking notice. "What's happening in Waterloo is fantastic," says Fred Wilson, managing partner of New York's Union Square Ventures, which invested $2.5 million in Waterloo text-messaging app company Kik last year. "If you look at the history of Silicon Valley, you'll see that startup hubs grow because of the success and ultimate demise of tech companies. In a forest, the trees start as saplings and grow, and then a fire happens, and the forest is blighted, and from the ashes the forest grows even bigger and brighter."
A few obstacles remain before the local startup scene can compare itself to somewhere like Boulder or Austin, let alone New York or Silicon Valley. While international VC interest is rising, there's a lack of well-capitalized local investors to fill the gap left by RIM's philanthropy. Add to that the challenge of getting talented minds to move to Waterloo, a city about as attractive to young tech stars as a BlackBerry handset.
Adam Gryfe knows this problem all too well. After completing a master's degree in business entrepreneurship and technology at the University of Waterloo this past fall, the Toronto native stayed in Waterloo to become the business development manager at Clearpath Robotics, a startup that makes research robots. On weekends, when his girlfriend visits from Toronto (about an hour's drive), they mostly just watch movies. "There's not a lot to walk around and see," Gryfe says. "It's really hard to attract people to Waterloo because it's not … well … fun." Currently he's trying to figure out an arrangement where he can telecommute from Toronto, driving in for meetings twice a week. "I love working here, but I don't want to live here as well."
Before it's here, it's on the Bloomberg Terminal.
LEARN MORE