HTC Pins Its Hopes on Music and Software
To reverse a decline, it pins its hopes on music and software
by and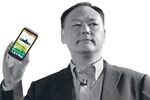 A peek at Peter Chou's smartphone reveals an abundance of '70s and '80s easy-listening hits from the Bee Gees, the Eagles, and Lionel Richie. "No rap," says Chou, chief executive officer of Taiwan phonemaker HTC. In business, though, he is very much a fan of legendary hitmaker Dr. Dre. Chou bought his way into Dre's inner circle last year when HTC paid $300 million for a 51 percent stake in Beats Electronics, the maker of high-end audio gear founded by Dre and Interscope-Geffen-A&M Chairman Jimmy Iovine. "We don't care about the headphones," says Chou. Instead, Beats's technology—both hardware and software—will help make listening to music on an HTC smartphone a "unique and differentiated and awesome" experience, he says.
The Beats partnership is part of a high-risk strategy to keep HTC relevant and prove that a Taiwanese company can sustain a position as a top global brand. As its stock price and market share have crumbled over the past year, HTC has invested more than $420 million in companies specializing in games, cloud computing, and more. HTC's aim is to reinvent itself as something more than a gadget maker. It aspires to be a technology icon that offers a full suite of services to device owners, following the example of Apple. HTC is "nurturing the relationship over time with customers, based on providing content, sales, rentals, and subscriptions," says Drew Bamford, HTC's associate vice president for user experience.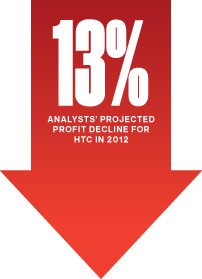 If HTC pulls it off, it'll be the second makeover for the company in the past half decade. Founded in 1997, HTC spent its early years as a contract manufacturer for brands such as Palm and Compaq. It wasn't until 2008, when it built some of the first phones running Google's Android operating system, that HTC became a recognizable name in its own right. That success is unraveling quickly. Competitors—especially Apple and Samsung Electronics—are eating into its global smartphone market share, which tumbled to 6.4 percent in the fourth quarter from 10.7 percent six months earlier, according to research group IDC. February sales were off 40 percent from the same period the previous year, and analysts expect HTC's profits this year to fall 13 percent, to $1.8 billion. HTC is battling against Apple over patents, and Google's purchase last year of Motorola Mobility raises questions about whether HTC will have full and timely access to Android upgrades, which it depends on for its best-selling phones.
HTC executives acknowledge some of these difficulties. "We let the portfolio get away from us," says Jason Mackenzie, president of global sales and marketing. "We were trying to do too many products in a short period of time." Joey Yen, a senior IDC analyst in Taipei, says the company's recent devices haven't been hits with consumers because of the handsets' "poor design." Chou says ups and downs in market share are "part of the business."
HTC isn't the first ambitious Taiwanese company to stumble. Acer and Asustek Computer rose from Taiwan's manufacturing scene to become PC powerhouses, but they've struggled to find a place in the smartphone and tablet markets. Their troubles are in large part the result of their narrow focus on hardware at the expense of software and consumer services—a fact not lost on HTC's chief.
Over the past year, Chou has gone on an entertainment binge. In addition to the Beats deal, HTC invested $40 million in OnLive, a cloud computing startup that delivers high-end video games and software via the Web. The company also put $48.6 million into Saffron Digital, which specializes in streaming content; $18.5 million into Dashwire, which helps consumers access content on multiple devices; and paid $13 million for Inquisitive Minds, the developer behind Zoodles, a mobile Web browser for kids. Recent news reports suggest HTC has also given Beats its blessing to acquire the online music service MOG. "We are looking in this area but can't confirm anything," Iovine says. He says existing subscription music services leave a lot to be desired. "What Apple has in the downloading world [with iTunes] is very, very good," he says. But the subscription model practiced by companies such as MOG and Spotify is "culturally unfinished."
The acquisitions haven't wowed analysts. Roxy Wong, head of technology research in Hong Kong for Mirae Asset Securities, says Beats hardware on smartphones may impress a few hi-fi enthusiasts, but he doubts the average consumer will notice. Sanford C.Bernstein analyst Pierre Ferragu is blunter: The recent investments "are not going to change the game for them," he says.
A new hit phone would help. In April, the company will begin selling the first three phones from its new high-end line, HTC One. Early reviews are glowing, with the tech blog Engadget calling the signature phone, the HTC One X, a "masterpiece."
That's good for Chou, who knows that the smartphone market is the most fickle in the computing industry. He may not be a fan of rap, but he knows enough to hope that some of Dr. Dre's talent for making hits rubs off on HTC.
Before it's here, it's on the Bloomberg Terminal.
LEARN MORE