For Your Ads Only: 50 Years of James Bond Product Placement
Julian Sancton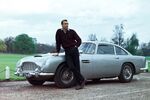 James Bond would be in his early nineties today if he weren't fictional. But like Batman, Bart Simpson, and possibly Tom Cruise, he remains an un-aging cultural reference point, inhabiting younger and younger bodies and playing with ever-more-sophisticated gadgets. He is a perpetual fantasy that adapts to the times—or at least to the tastes of males from 18 to 30 and the advertisers who court them.
A handful of characteristics define Bond as Bond and connect each new incarnation to Ian Fleming's legacy, primarily that he's as promiscuous with women as he is faithful to vodka martinis—shaken not stirred. Which is why some 007 fans felt betrayed by the news of a major partnership between the makers of Skyfall, the 23rd Bond movie (to be released in November), and Dutch brewer Heineken.

The response on Twitter is almost all outrage and cynicism and calls of "sacrilege." Never mind that Bond has drunk other booze in the past, and that he has on at least one occasion had his martini stirred, not shaken. And never mind that, ever since Sean Connery flew Pan Am and prominently displayed a Smirnoff  label (DGE:LN) in Dr. No 50 years ago, the franchise has slowly but steadily been invaded with brands. Bond's been driving Aston Martins since Goldfinger, with the occasional dalliance in a BMW (BMW:GR). He crashed through a British Airways (IAG:LN) billboard in Moonraker (1979) and through a Perrier (NESN:VX) truck in Goldeneye (1995). And in 2002, for Die Another Day, he switched to Finlandia Vodka.

According to the Sunday Times, MGM and Sony plan to raise $45 million worth of Skyfall's budget from companies wanting to include their brands onscreen, more than double the previous product placement record held by the 2002 sci-fi film Minority Report.

Over the years, Sony and MGM have partnered on Bond films with—and this list isn't close to exhaustive— Mattel, 7UP, Samsonite, Kodak, Calvin Klein, Norelco, Sony Erricsson, British Airways, Virgin Atlantic, Ford, Jaguar, Revlon, Rolex, and Omega (UHR:VX).
Brand placement in Bond movies isn't new—you could even say it's as integral to Bond as his cherished vodka martinis. And some of the placements have been incidental. After all, Fleming himself dropped a few brand names (including Cartier [CFR:VX]) in the books, for which he presumably didn't receive a penny.
But, like 007's double entendres, product placement has gotten more shameless in recent iterations. Take, for example, this exchange from 2006's Casino Royale that not so casually calls attention to the Omega watch Daniel Craig is wearing. (Purists will note that Bond drinks both red wine and scotch in the scene.)

By this point, no one should be surprised by the Heineken partnership. David Black, chairman of the International James Bond Fan Club, has no problem with Bond swilling lager. "I think it's fine," he says, "though it may put a few pounds on him."
Before it's here, it's on the Bloomberg Terminal.
LEARN MORE