For Sports Networks, You Gotta Pay to Play
Rising team prices and competition up the cost of programming
by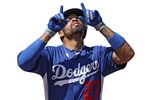 With baseball's Opening Day come the annual rites of spring: hot dogs, Cracker Jack, and rising cable bills. The insatiable demand for sports has long fed the pay-TV ecosystem, largely because the fees to show all those games are easily passed on to consumers. But this season, pay-TV outfits are struggling to figure out how they can absorb the surging cost of sports programming without alienating customers.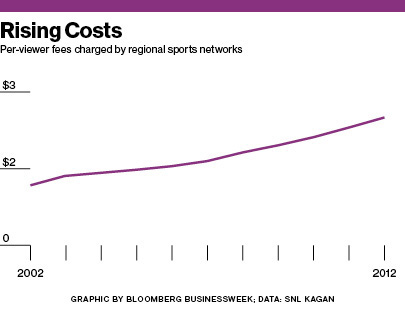 Fees for televised sports are rising almost twice as fast as subscriber rates, squeezing profits at pay-TV companies such as DirecTV, Dish Network, and Time Warner Cable. The $2.3 billion price tag Magic Johnson's investor group will pay for the Los Angeles Dodgers sounds absurd until factoring in the billions Fox Sports or Time Warner Cable will likely pay for TV rights to broadcast the team's games. "We've got to change the dialogue," says Pat Doyle, chief financial officer at DirecTV, the largest U.S. satellite-TV service. "Let's get the people that want sports to pay for sports."
Cable and satellite-TV executives worry that sports programming has become such a lopsided component of basic-cable packages that non-fans may be tempted to drop their subscriptions and make do with Netflix, Hulu, and other Web-based entertainment options. Convergence Consulting Group says 1.05 million Americans dropped their pay-TV subscriptions to rely solely on online video in 2011. But attempts to segregate sports channels into premium packages that cost more have hit roadblocks.
A typical cable system pays Walt Disney'sESPN, the most expensive cable channel, $5.06 per subscriber per month, says researcher SNL Kagan. Add to that fees paid to the 50-odd regional sports networks (RSNs) that hold the rights to carry more localized events, everything from the National Basketball Association's Los Angeles Lakers to Big Ten collegiate sports. On average, the cost of an RSN surged 52 percent in the past five years, to $2.49 per user per month, Kagan estimates. That's more than four times what Comcast'sUSA, cable's most-watched network, will charge pay-TV operators monthly in 2012 and more than double the price of No. 2 Disney Channel.
RSNs will raise fees by 8.3 percent this year, Kagan estimates. But the TV portion of a typical cable bill rose only 4.4 percent in 2011, estimates Sanford C. Bernstein. Markets including Boston, New York, and Washington have two or more regional sports channels, multiplying the cost to cable systems and stoking competition for content.
Miller Tabak analyst David Joyce says that with News Corp. mulling starting a national channel to rival ESPN, prices for sports can only go up. "It's getting to a tipping point," he says. "Every sports franchise wants a piece of year-round recurring monthly affiliate fees, and that's just not an attractive or sustainable option for consumers."
For cable and satellite players, there's also competition from AT&T's U-verse and Verizon Communications' FiOS, as well as cut-the-cord services such as Roku and Boxee that bypass cable systems with movies, TV shows, and some sports via the Web.
Even as the industry rushes to add more sports programming, the total number of video customers at the top four U.S. pay-TV providers—Comcast, DirecTV, Time Warner Cable, and Dish Network—has fallen annually for two consecutive years. Higher sports costs are also hurting profits, particularly when networks are allowed to bundle channels and force providers to take all of them, said Time Warner Cable Chief Executive Officer Glenn Britt in March. "It's not a sustainable thing," says Britt. "Programming prices can go up much faster than the retail price."
The problem is partly of the pay-TV companies' own making. To attract and retain customers, they've paid handsomely for sports rights or even started their own regional cable sports networks, profiting from a system they call flawed. That's because live sports helps cable operators keep customers when so many other video choices are available, says Fox Sports spokesman Chris Bellitti. "Live sports is must-have programming in an age of fragmentation," he says. "Distributors know the value of live sports and use it to help drive their businesses."
DirecTV, Cox Communications, and Time Warner Cable are experimenting with budget packages that exclude sports. "If I could wave a wand, the first thing I would peel off is regional sports networks," says DirecTV CEO Mike White. "The cost is just too high."
Yet the prospect of bundling all sports programming into its own pay tier is a nightmare to many in the cable industry. David Bank, an analyst at RBC Capital Markets, estimates 80 percent of basic-cable customers would decline to pay for sports, requiring networks to quintuple prices on those who are left. Explains Bank: "When you start to do the math, the idea of a sports tier just doesn't work."
Before it's here, it's on the Bloomberg Terminal.
LEARN MORE