Daimler's Billion-Dollar Bet on Hungary
Its new factory near Budapest has wages a fifth of those in Germany
by and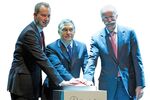 The campaign by Daimler's Mercedes-Benz brand to regain the global luxury sales crown it ceded to rival BMW in 2005 will ultimately be won or lost in dealer showrooms in China, the U.S., and Russia. And of course, Hungary. Daimler on March 29 began production at its €800 million ($1.07 billion) factory, located in Kecskemét, about 90 kilometers (56 miles) southeast of Budapest, that will make the Mercedes B-Class compact.
By heading so far east, Daimler Chief Executive Officer Dieter Zetsche is betting that Hungary's rock-bottom wages will allow the automaker to wring more profit from its small-car, luxury lineup. "This could be the final big plant by a European carmaker in the region," says Carol Thomas, an analyst with LMC Automotive. "The factory is coming quite a bit later than others in Europe, which is struggling with overcapacity. The growth and expansion have shifted to Asia and Latin America."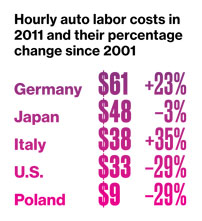 Zetsche is flouting overcapacity concerns in Europe to take on BMW's 1 Series and X1 in the market for premium-priced compact cars. Hungarian workers are paid a fifth of the about $60 per hour German workers cost, so Daimler will use the factory to profitably meet its goal of boosting sales 27 percent, to 1.6 million vehicles by 2015. The company also aims to improve profitability with models such as the A-Class hatchback and a compact sport-utility vehicle. "We are on the offensive," Zetsche says. "Our entire team is focused on reclaiming the leadership position."
The Kecskemét plant, the first new Mercedes factory since the brand began producing cars in Alabama in 1997, will supplement Daimler's small-car factory in Rastatt, Germany, which underwent a €600 million expansion of its own. Combined, the Kecskemét and Rastatt plants will have an estimated capacity of 450,000 vehicles, equivalent to 35 percent of Mercedes car sales this year, according to IHS Automotive. "They need high volume to pay for all that investment," says IHS analyst Christoph Stuermer. "The stakes are high."
The Hungarian factory, which will also produce the new CLA four-door coupe in 2013, will have initial capacity of 100,000 vehicles a year and could be easily increased to 200,000, Mercedes production chief Wolfgang Bernhard says.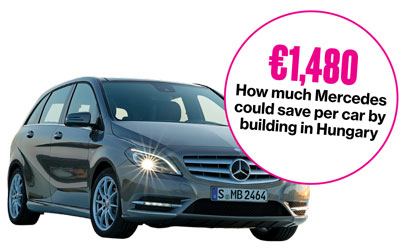 Manufacturing costs at the plant are 30 percent lower than in Germany, he says. Jobs at the plant are already being added, with 500 new hires planned by the end of 2012 to help fill more than 100,000 orders for the new B-Class. Lower production costs, including increased parts-sharing among models, are part of Mercedes' plans to save €6 billion by 2017 to offset rising raw material costs and increased spending to lower carbon-dioxide emissions of its vehicles.
In Europe, auto sales are poised to decline for a fifth consecutive year in 2012. The region's automakers will likely use about 65 percent of production capacity this year, down from 71 percent last year, figures LMC Automotive. The unused assembly lines could manufacture an additional 10 million vehicles, the researcher says.
Given the capacity overhang, it will take plant closures and job cuts to make auto production in Europe profitable again, says Sergio Marchionne, CEO of Fiat and Chrysler Group. "It has to be painful when you are talking about reductions, [and] it's going to have initially a negative impact on employment," says Marchionne, who last year closed a Fiat plant in Sicily. In February, Mitsubishi Motors also said it will stop making cars at its factory in the Netherlands.
Mercedes is following in the footsteps of Volkswagen's Audi unit, which has manufactured motors in the western Hungarian city of Gyõr since 1993. Audi began building the TT coupe there in 1998 and is investing €900 million to expand annual capacity to 125,000 cars by next year, from 38,500 in 2010.
Hungary's allure is an educated labor force that last year cost €8.61 an hour compared with €45.66 in Germany, according to German auto industry group VDA. With about 40 working hours spent to assemble the Mercedes compacts, the savings are about €1,480 per car, figures Ferdinand Dudenhöffer, director of the Center for Automotive Research at University of Duisburg-Essen. Daimler aims to reduce the average hours spent assembling a vehicle in Hungary to 30.
Before it's here, it's on the Bloomberg Terminal.
LEARN MORE