China's $50 Billion Opportunity for Auto Insurers
Foreign companies get access to the nation's auto market
By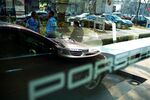 On a recent two-week trip, Kevin Goulding, head of Chartis China, American International Group's Shanghai-based property-casualty business, scouted four regions where his company is considering opening its next branch as he prepares to sell car coverage for the first time. The combined population of these cities and provinces: 500 million. It's that kind of number that delights the foreign insurers eyeing China's $50 billion auto coverage business. "It's an extremely large market and will also allow us to offer other products to consumers," Goulding says.
Soon-to-be-relaxed rules in China mean foreign insurers will be able to sell mandatory policies that cover drivers' costs if they harm another person or somebody else's property. The compulsory insurance coverage is a loss leader for Chinese firms. To turn a profit, companies often bundle the mandatory coverage with more lucrative, voluntary insurance that covers damage to a driver's own car.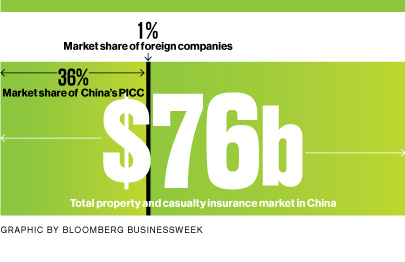 To compete in the market, foreign insurers will have to win over consumers like Yang Guang, 35, an English teacher who says convenience is the most important factor in selecting a carrier: "I'll see what foreign insurers have to offer, but I doubt they can elbow their way into the dealerships that have already partnered with local insurers."
Barring foreign companies from selling mandatory auto liability policies has been a factor in keeping the overall share of non-Chinese property-casualty insurers to about 1 percent, according to PricewaterhouseCoopers. About 70 percent of premiums in the country come from selling car coverage. PICC Property & Casualty, China's largest car insurer, with about one-third of the market, generated more than ¥100 billion ($15.9 billion) in premium revenue from the auto business in 2011.
Allianz, which earned about €5 million ($6.6 million) in auto premiums from China in 2011 after five years of selling voluntary auto coverage, plans to offer the compulsory policies at car dealerships and is targeting buyers of luxury brands such as Mercedes-Benz and BMW, says Peter Nestmann, chief executive officer of the Munich-based insurer's property-casualty unit in China. "If you're not allowed to sell the most basic liability coverage, it's not easy to compete," says Nestmann, who's based in Guangzhou.
For now, foreign insurers are awaiting details on the timing of the new rules. Liberty Mutual Holding, which has more than 90,000 auto policyholders in the country, projects it will take six to 18 months before it will be able to offer the mandatory auto products, according to Jackson Tang, CEO of the Boston-based insurer's China subsidiary. The company began selling voluntary car coverage in China in 2005 on the expectation the ban would be lifted, says Tang. For AIG's Chartis, the move into China's auto market complements a shift toward selling more coverage to individuals. Consumer insurance, such as accident-and-health policies, accounted for 38 percent of the unit's policy sales in 2011, compared with 30 percent two years earlier.
Still, building an auto insurance business in China won't be easy. Beijing sets rates for the mandatory coverage, and foreign insurers can open only one branch at a time—a process that takes about 18 months, says Liberty Mutual's Tang, who's based in Chongqing. Chinese firms don't face the same restrictions in obtaining licenses. Chartis's Goulding says it would take a few years before the company has enough data on the habits of Chinese drivers to make accurate forecasts. Given auto insurance's thin profit margins, "you have to be very smart on how you profile your customers," he says.
Before it's here, it's on the Bloomberg Terminal.
LEARN MORE