Bond Investors Get the Jailhouse Blues
After a debt-fueled boom in private prisons, a string of busts
by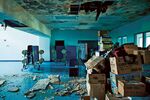 Abutting a cotton gin and surrounded by fields, the sprawling Irwin County Detention Center in Ocilla, Ga., resembles a complex of industrial warehouses. It has 1,200 beds and enough inmates to fill just half of them. It's the latest on a growing list of private jail failures in the country.
County officials issued $55 million in bonds in 2007 to help a real estate developer double the size of an existing jail so it could house inmates from overburdened state corrections departments and federal agencies, such as U.S. Immigration and Customs Enforcement and the U.S. Marshals Service. The plan promised to bring jobs and prosperity to this impoverished rural county of about 9,500. With small-town lockups facing growing competition from larger private corrections companies, the revenue didn't materialize nor did the debt payments. On Feb. 29 bondholders forced the developer into a Chapter 11 bankruptcy days before the county was set to sell the jail for $1.6 million in back property taxes.
The prior decade saw a spurt of speculative prison building, as industry leaders such as Corrections Corporation of America and GEO Group sought to profit from two trends: overcrowding at the state level and stepped-up federal detentions of undocumented immigrants. The boom also drew in small-time players: Terry O'Brien had no previous experience running a prison before he formed Municipal Corrections in Nevada in 2004 to take ownership of the Ocilla jail. Bond documents from 2007 described the firm as having a "limited operating history and limited assets."
Ten similar projects, with municipal debt totaling more than $365 million, are also in trouble, according to Municipal Market Advisors; eight are in default. "We've seen a small wave of these over the past 18 months," says Matt Fabian, managing director at the Concord (Mass.)-based research firm. Individual investors should beware, he says: "The rule should be: 'If it has the word jail in it anywhere, leave it for somebody else.'"
It's not just bondholders that take a hit. Communities "end up with these huge white elephants," says Christopher Taylor, a former head of the Municipal Securities Rulemaking Board. "You can't convert these things to hotels."
Almost half of the distressed projects on Municipal Market Advisors' list are in Texas. Two jails there sit vacant and have yet to make money, a third had its head count drop from several hundred to 14, and a fourth lost three-quarters of its inmates after the state yanked a contract last year, according to bond documents. In Greensboro, Ala., the roof of an abandoned youth prison began leaking two years ago and there's no money for repairs, says William Ryan, a retired judge who formed the nonprofit that owns it. He has tried in vain to find a buyer. The center fell victim to a change in philosophy, Ryan says: "They don't lock up so many juveniles now."
The prison in Ocilla was sitting empty when O'Brien acquired and reopened it in 2004 with the help of $14.8 million in county-issued bonds. Three years later, local officials endorsed O'Brien's plan to enlarge the lockup using $55 million in new bonds.
Underwriter Bergen Capital made $716,800 in fees on the 2004 bonds and $1.8 million on the 2007 issuance, documents show. Under a lease deal with the county, Municipal Corrections made $5,000 to $8,000 monthly for owning the jail, while a second firm affiliated with O'Brien got $21,000 monthly to run it. Bergen Capital, a division of Scott & Stringfellow in Richmond, Va., was renamed BB&T Capital Markets in January. BB&T Capital and O'Brien did not respond to requests for comment.
The hoped-for inmates never showed. One hitch: competition from bigger operators, many of whom boast a national footprint and are in a better position to win federal contracts. Corrections Corporation of America, for instance, added enough beds in Georgia from 2006 to 2009 to house 2,254 illegal immigrants, according to spokesman Steve Owen.
O'Brien's company missed its first bond payment in February of this year. By then, Irwin County's tax commissioner had already foreclosed on the jail and was poised to sell it on March 6. But before a deal had been inked, bondholders Hamlin Capital Management, Oppenheimer Rochester National Municipals, and UMB forced Municipal Corrections into bankruptcy.
On a sunny day in late March, as a handful of inmates in striped uniforms lounged in the jail yard, county officials pondered their next step. "We've retained counsel in Las Vegas," says County Attorney Warren Mixon. "Whoever would have thought we'd be doing that?"
Before it's here, it's on the Bloomberg Terminal.
LEARN MORE