An App for Intimacy—Without the Intimacy
Pair is a social network for just you and your partner
By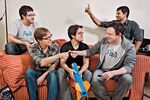 First there was the Facebook "poke"—press an image of a finger to send a flirty signal to another user on the social network. Now online affection has been updated for the smartphone era with the "thumbkiss." Two users slide their thumbs over the screens of their separate iPhones. When their fingerprints line up, the screen turns red and the phones vibrate.
This bit of mobile matchmaking was thought up by Pair, a social network where three's a crowd. Founded in February by five former classmates from the University of Waterloo in Ontario, the app has become the latest Silicon Valley sensation. After launching it onstage at a startup showcase, the quintet scored strong applause and meetings with venture capitalists. In the first week of April, Pair was close to raising about $1.5 million in a round of funding that would value the two-month-old business at approximately $10 million, according to a person familiar with the transaction who declined to be identified because the terms were private.
Once two partners download Pair on their iPhones (a version for Android devices is in the works), they can send text messages, photos, and videos to each other without worrying about interlopers viewing their intimate exchanges. Couples can also draw doodles and broadcast their locations to each other. Then there's that special thumbkiss, ideal for a long-distance good night. It results in "some sort of dopamine release in your brain," says Pair co-founder Jamie Murai, 28. "You feel connected to the person. It actually makes you feel happy."
In some ways, Pair is the logical extension of a trend toward privacy in online social networks. Facebook garnered early acclaim because, unlike Myspace, it let users limit their online sharing to a select group, such as other students at the same university. As Facebook grew bigger, many users found themselves with hundreds of connections. Facebook executive Dave Morin quit in 2010 to found Path, a social network that limits users to 150 online friends.
Pair's founders say they created the app out of necessity. After leaving school and moving as a group to Mountain View, Calif., to participate in the Y Combinator business incubator program, three of the five became homesick for the girlfriends they had left behind in Canada. They abandoned their original idea of creating software for 3D designers and, in one 24-hour marathon coding session, built the mobile app that would become Pair. "They scratched their own itch," says David Lee, a managing member at Pair investor SV Angel.
It may be a challenge for the young startup to move past the hype and build a real business. For one thing, Pair is yet another social tool at a time when many people feel their relationships are hypermediated by technology. "There are so many ways to get in touch with one individual and maintain a one-to-one relationship that you have to wonder what kind of void this is filling," says Gartner analyst Michael Gartenberg. Since Apple introduced multimedia messaging to its customers last year, two iPhone users already have the ability to send private videos and photos to one another for free, he says. Then there's the problem of getting the word out: Unlike Facebook and Path, which spread virally, Pair can't count on fans telling more than one person.
The Pair guys say the app is not another social network. It's "a different space for you and your partner," says Oleg Kostour, the 23-year-old chief executive officer. No other app lets couples share to-do lists and a calendar of anniversaries or search through a history of their interactions. Although Pair has no immediate plans for making money, it's considering selling virtual goods or activities within the app, letting couples collectively tend a digital plant, for instance. Chris Silva, an analyst at Altimeter Group, thinks jewelry brands such as De Beers and Blue Nile may want to advertise to Pair's users. "You could probably time the advertising to the stage of the relationship," Silva says.
The app's emphases on romance and secure sharing make it a perfect way to send, um, titillating messages to your partner, but Murai doesn't worry about that becoming the norm. "Is it more compelling to sext your partner or is it more compelling to feel close emotionally to your partner?" he asks. "We definitely think it's the latter."
Still, there's something vaguely sensual about that thumbkiss. At a coffee shop in Palo Alto, Kostour does a demonstration. He lets a reporter touch his thumb to the phone while his girlfriend in Vancouver, Evelina, creates a kiss on the other end. He takes the phone back. "She just asked me, 'Is that cheating?' "
Before it's here, it's on the Bloomberg Terminal.
LEARN MORE