Feed the Poor? Not in Philadelphia City Parks
Philly says outdoor food lines for the homeless are dangerous
By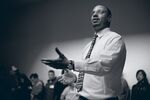 Every Saturday night from May through October, volunteers working with Chosen 300 Ministries, a religious group, set up cloth-covered tables in a park alongside Philadelphia's Benjamin Franklin Parkway and serve cornbread, grilled tilapia, and peach cobbler to the homeless and the hungry. This year they may be forced to stop.
On March 15, Philadelphia Mayor Michael Nutter announced a ban on serving food in city parks unless it's at a city-sanctioned event or the guests are family members. Brian Jenkins, founder of Chosen 300, says the new policies are a ploy to remove a crowd considered to be an eyesore from areas frequented by tourists. In announcing the ban, Nutter said the new rules have nothing to do with that: "It's not about who is on the parkway but how it is used." The mayor said he wanted to "increase the health, safety, [and] dignity" of the homeless, eliminating the risk of illness or injury associated with waiting for food amid bad weather and traffic.
Under additional rules recently adopted by the city's health department, those who want to feed the hungry on a sidewalk, road, or other public place outdoors must take a food-safety course and obtain a permit from the city. They also need to prepare meals in a facility inspected by city officials or agree to adhere to a long list of rules required for food prep in kitchens officials haven't visited.
"Jesus didn't have to go to an approved kitchen," complains Jenkins. The group's Saturday meals, featuring a banjo-strumming gospel singer or a choir and sound system, typically draw 250 people, including families. Jenkins estimates similar gatherings are sponsored by at least 30 groups across the city, including six that descend on his stretch of the Parkway, a mile-long scenic boulevard lined with green spaces and museums.
The debate in Philadelphia also is playing out in communities across the U.S. Since 2007 at least 23 towns and cities have imposed restrictions on sharing food outdoors, according to research conducted by the National Law Center on Homelessness and Poverty and the National Coalition for the Homeless. Neil Donovan, that organization's executive director, says he supports regulations designed to make sure people don't get sick. Says Donovan: "The only thing worse than being homeless is being homeless on the street with a stomach infection."
Other advocates for the homeless don't believe new rules are needed. They point out that the federal government encourages donations of food to the poor. A 1996 law signed by President Bill Clinton says businesses, organizations, and individuals who give away food can't be held liable if the recipients catch a food-borne illness. Mayors promoting the rules as a matter of public health are raising "a red herring," says Randall Kallinen, a civil rights lawyer in Houston. "They can't provide one example where someone got injured or sick. This is really a way to push homeless out of downtown."
The Houston City Council recently considered a proposal to fine good Samaritans as much as $2,000 if they prepare food in private kitchens and serve it outdoors to the homeless. About 10,000 homeless people live in the city. Hearings on the proposal drew large crowds and left one lawmaker, who's torn about the issue, in tears. The council amended the plan and is considering requiring groups to get written permission from public and private property owners to serve food outdoors on their land. Fines for violating the rule would be $500.
Philadelphia's mayor says "providing food to those who are hungry must not be about opening the car trunk, handing out a bunch of sandwiches, and then driving off into a dark and rainy night." Yet many advocates worry that community groups feeding the homeless will shut down because of the regulations, leaving people hungry.
Jenkins vows not to let that happen. The city's park ban is slated to take effect in mid-April, and he's planning to flout it beginning the first Saturday of May, even if that means paying a $150 fine. "I'll just put up a sign that says 'God's Family Picnic,' " Jenkins says. "You can't regulate someone doing good."
BOTTOM LINE -
The bottom line: Advocates worry new rules preventing outdoor meals in Philadelphia and other cities will hurt the homeless and the hungry.
Before it's here, it's on the Bloomberg Terminal.
LEARN MORE