business
Will NBA Players Become Billboards?
Selling space on game uniforms could net owners millions
By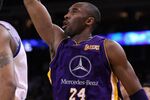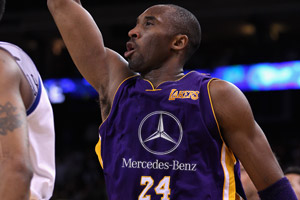 On April 12, NBA owners gather in New York for their first board of governors meeting since the bitter labor dispute last fall. During that lockout, NBA Commissioner David Stern told anyone who would listen that the players would have to accept cuts because the NBA was losing more than $300 million a year, with 22 of its 30 teams in the red. The new collective bargaining agreement helped owners control costs, but many still badly need a revenue boost, which is why an old idea may get a new hearing at the April meeting: selling ad space on game jerseys.
According to Sports Business Journal, the idea is expected to be debated at the meeting. NBA spokesman Michael Bass says the agenda is not yet set but that "sponsor logos on NBA uniforms is a subject of ongoing conversation." Marketing experts say it's only a matter of time. "When you look at the revenue streams left available, jersey branding is the most significant that hasn't been exploited," says David Abrutyn, head of global consulting at sports marketing firm IMG Worldwide. "It's inevitable," agrees Frank Vuono, co-founder of 16W Marketing.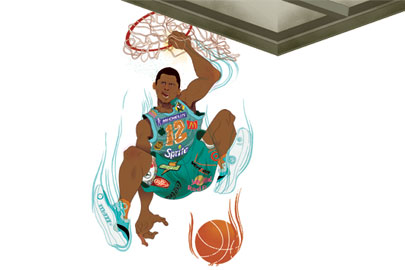 What's not so certain is what a jersey deal is really worth. Front Row Marketing Services, whose parent company, Comcast-Spectacor, runs 11 regional sports networks and owned the Philadelphia 76ers until last fall, figures the annual cost to companies to place their logos on uniforms would range from $1.2 million to $7.5  million per year, depending mainly on the market where the team plays. The calculations are complicated, says President Chris Lencheski. His analysts have scoured game footage to tabulate which parts of a jersey appear at various points during a game's telecast. "There is a marked difference on the return, depending on where a patch might be," he says. "And is it a 3-inch-by-3-inch patch? Or is it a 3-inch-by-3-inch square, and your logo can fit inside that area? It sounds silly, but this is what you do."
A study by Horizon Media last year put the annual value of the television exposure of the space across an NBA jersey's chest in a range from $4.1 million for the L.A. Lakers to $300,000 for the Minnesota Timberwolves. Abrutyn, whose IMG arranged the partnership deal between the NBA and its official automotive partner Kia Motors, says those numbers are probably low. He estimates the Lakers could fetch $10 million to $15 million per year. Both Abrutyn and Vuono point to European soccer, where marquee clubs, such as Manchester United, get more than $30 million a year for uniform deals. Whatever the cost, there will be no shortage of bidders, says Lencheski. "I've got about six companies that would buy it right now." Abrutyn says companies that already have naming rights to NBA venues, such as Staples in Los Angeles or TD Bank in Boston, are likely to be "the ones on speed dial once this gets approved."
While dealmakers are understandably gung-ho, fans might not be thrilled to have advertisers invade one of the few commerce-free corners of the game. None of the four major U.S. sports sells space on game jerseys. And the NBA, unlike the other leagues, doesn't even give space to its uniform maker, Adidas. But the purists have long been in retreat. In 1979, Liverpool became the first professional soccer club in England to put a sponsor (Hitachi) on its uniform. At first, the BBC refused to air the club's games. Now every team in the Barclays Premier League sells the space on players' chests. "Commercialization in sports has long been accepted in society," says IMG's Abrutyn.
Some fans would welcome the change because revenue coming from corporate coffers means more money for players. "Any money from the jerseys is not going into the owner's pocket, I can assure you," says Lencheski, "it's going to produce the best basketball team they can." The players, for their part, are not likely to complain, because they would be entitled to a share of the extra revenue. Plus, sponsorship money doesn't come out of fans' pockets. "The initial outrage of people putting names on stadiums ended pretty quickly when people realized that otherwise they're going to have to pay a lot more for their tickets," says Vuono, who knows a thing or two about outrage from helping arrange for Candlestick Park to become 3Com Park in 1995.
Even without a fan revolt, the league will have to sort out ground rules to keep from upsetting its current sponsors and TV partners. Could a team with Southwest Airlines on its Jersey play at American Airlines Arena in Miami? Does Kia's status as the official automotive partner of the NBA keep Chrysler from buying space on the Detroit Pistons uniform? Bass says the NBA, which already does jersey deals in its development league and in the WNBA, is evaluating "the impact on key stakeholders." One big consideration, he says, is whether jersey sponsorships would increase revenue or merely divert it from existing deals.
The largest stumbling block, ironically, could be the owners themselves. This fall's lockout was in part a battle between the big and small market teams over revenue sharing. And tensions are still raw. In December, before the NBA put the brakes on a trade that would have sent star point guard Chris Paul from the New Orleans Hornets, which the league owns, to the Los Angeles Lakers, Dan Gilbert, who owns the Cleveland Cavaliers, sent an e-mail to Commissioner Stern asking, "When will we just change the name of 25 of the 30 teams to the Washington Generals?" He and the league's other have-nots are likely to cry foul over any plan that promises to be dramatically more lucrative for the top five franchises than it is for the rest.
Before it's here, it's on the Bloomberg Terminal.
LEARN MORE