Q&A: Teach for America's Wendy Kopp
Alison Damast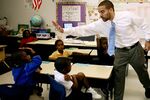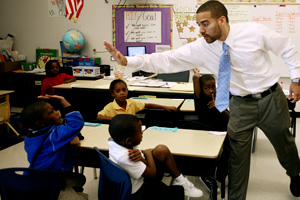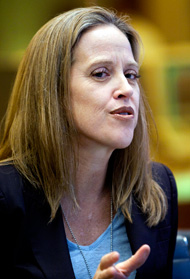 Wendy Kopp first came up with the idea for a national teacher corps when she was a student at Princeton, spurred by a deep-seated concern about inequality in the U.S. education system. She completed her senior thesis on the topic in 1989 and a year later turned the proposal into Teach for America, an organization that recruits college and graduate students to teach in the nation's most poorly performing urban and rural school districts.
The national nonprofit, now one of the largest educational-leadership programs in the country, has seen applications nearly double in the past five years, jumping from nearly 25,000 in 2008 to almost 48,500 today. Those applicants include students from some of the nation's most elite colleges and universities, including 17 percent of the graduating class at Harvard and 13 percent of the seniors at Brown. With the surge in interest, it has become harder than ever to get into the two-year teaching program. Teach for America admitted only 14 percent of applicants last year, which made gaining acceptance harder than winning a seat at Northwestern University, which admitted 18 percent of applicants. This year, more than 9,000 corps members will teach 600,000 students across the country.
Kopp, 44, who lives on New York City's Upper West Side with her husband and four children, has presided over Teach for America since its founding 22 years ago and is the organization's chief executive officer. Kopp spoke in an interview with Bloomberg News about the organization's recruiting efforts, how it selects its teachers, and the organization's long-term goals.
You've seen the largest growth in applications in 2008, 2009, and 2010, and college graduates from elite schools are flocking to Teach for America. How much do you think that has to do with the recession limiting other opportunities? How much do you think is the result of increased interest in public service or teaching?
First of all, I don't think it would be fair to say that people are just waking up on campuses across the country and deciding, "Let me apply to Teach for America." We are working to build a movement on our college campuses. This year we met one-on-one with more than 40,000 graduating seniors to ask them, "What are you thinking next year?" We have quite an incredible effort out there, fueled by 60 or 70 two-person recruitment teams and thousands of volunteers, including corps members, alumni of Teach for America, and college students. They are out there on campus with the message that this is the most fundamental problem facing our country and our communities and kids. That's why we go out on these campuses, and it is why we are so selective. It is why we are out there recruiting probably more aggressively than any company in America. We want to get the folks who have real leadership ability to succeed as teachers in today's system, work in the most underserved communities, and at the same time to go on and exert influence and change things in our country. People are doing this because they see the potential to make an immediate impact. They also see it as part of something larger, with a bunch of other people who share their conviction that they can make a difference.
What are some of the specific leadership qualities your recruiters look for when they interview Teach for America applicants?
We've done a ton of work trying to understand what are the personal characteristics that differentiate our most successful teachers. People think the higher the grade point average, the better. That is not the case. We are looking for a set of personal characteristics that predict success, the first and foremost of which is perseverance in the face of challenges. We also look for the ability to influence and motivate others who share your values, strong problem-solving ability, and leadership. Another predictive trait is people who have worked successfully in low-income communities with diverse populations. We do a lot that enables us to see what people will bring to the classroom.
Teach for America has become extremely competitive in the past few years, and last year only 14 percent of applicants were accepted into the program. You have this odd problem now that Teach for America has in and of itself become an elite experience. How do you grapple with that?
It is a challenge, because of course when you meet someone who really wants to do something good, you want to take them up on that. We are working essentially to build a leadership force of folks who will, during their first two years of teaching, actually put their kids on a different trajectory—not just survive as a new teacher, but actually help close the achievement gap for their kids. So we are not being selective to be selective. We are looking for people who have the demonstrated leadership ability to do that, and it is just so hard to have that when you are 22 years old. It is a rare person who is ready for this right out of college, but it is so critical.
In 2010, the MBAs who applied to Teach for America jumped to 641, up from 91 three years before. What do you think is driving the interest in Teach for America among business students?
We've made a more focused effort in the past few years to recruit people who are one to 10 years out of college. We recruit at business schools and other graduate schools, and we've seen our MBA numbers grow pretty significantly, which has been terrific. We are looking for the same kind of leadership characteristics, and obviously someone a few years out of college has a little more experience and seasoning to bring to the picture. Mississippi's Teacher of the Year last year was a Teach for America corps member in her second year, with an MBA from Florida A&M University. She also had a few years of corporate experience from Johnson & Johnson, so she brought a level of expertise that enabled her to win that title.
What is the organization's long-term goal for the graduates of Teach for America?
All you have to do is teach in today's schools to realize we will never solve this problem from within the classrooms alone. We need long-term committed leadership from within education if we're ever going to have a shot at this. The fact that two-thirds of our alumni who came into this so unsuspecting are still going at it as teachers, school principals, and district leaders is super, super critical. But we actually think some of these folks have to leave. I think the way to understand Teach for America is as a leadership development program. We need political leaders, policy makers, doctors, lawyers, and probably more business leaders than we are producing right now who actually understand what it means to successfully teach in this context. In the long run, we need to build a leadership force of people. We have a whole strategy around not only providing folks with the foundational experience during their two years with us, but also then accelerating their leadership in ways that is strategic for the broader education reform movement.
Before it's here, it's on the Bloomberg Terminal.
LEARN MORE