As MBA Applicants, Business Majors Face an Uphill Battle
By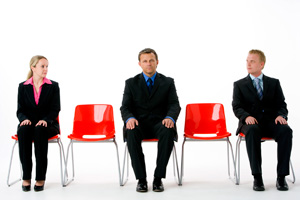 The fastest-growing segment of bachelor's degree holders applying to MBA programs is anathema to some top admissions officers: former business majors.
Business undergraduates have long made up the largest portion of GMAT test takers, and that foothold has grown firmer, reaching 54 percent in 2010, up from 50 percent in 2006, according to the Graduate Management Admission Council, which runs the test.
Former business majors taking the GMAT increased an average of 5.3 percent each year, a rate at least twice as fast as any other major. GMAT test takers are seen as a gauge of who is applying to graduate business school.
The growth comes at a time when admissions officers at the most selective MBA programs are increasingly choosing applicants with non-business backgrounds.
"We want 75 percent of our class to be non-business undergrads," says Sara Neher, assistant dean for admissions at the University of Virginia's Darden School of Business. "In some respects, there is a higher bar [for business majors] than for non-business majors."
Darden, as well as Harvard Business School and Oxford's Saïd Business School, report that they have accepted more engineers in recent years.
Engineering graduates are, and have been, the second-largest group of undergraduate majors interested in applying to MBA programs. But as a portion of GMAT test takers, they've become increasingly scarce. Engineers taking the test grew an average of 0.6 percent each year from 2006 to 2010—more than four times slower than test takers overall.
Which means this: If you're an engineer applying to a selective MBA program, your odds of getting in are good and getting better.
"Everywhere you look, data is required more often to find solutions. Engineers are very good at this," says Stephan Chambers, director of MBA degrees at Saïd. "I don't think it's a coincidence that the combination of an MBA and engineering is gaining traction."
Are there any other degrees with improving MBA admissions odds? None as bright as engineering, but the admissions outlook for undergraduates in social sciences majors is certainly improving.
Social entrepreneurship has become a top priority at the most selective graduate business schools, and many MBA candidates in those tracks have either worked, or hope to work, at nonprofits and nongovernmental organizations (NGOs), Chambers says. Social sciences degrees, he adds, are often a precursor to those types of careers.
Similar to engineers, social sciences graduates taking the GMAT became increasingly scarce from 2006 to 2010 compared with test takers overall.
Ultimately, MBA applicants each must prove themselves during the admissions process regardless of their undergraduate background. However, Darden's Neher has advice for the growing pool of former business students hoping to stand out.
"Because they are most likely in business careers now, they probably have concrete examples of how they have worked in a team and led a team," she says. "Really bring those out in an essay or interview."
She also expects former business students to have a greater understanding of how MBA classes would improve their strategic decision-making. Those applicants should demonstrate their desire to learn strategy instead of execution, she says.
"The undergraduate business experience is more transactional. It's 'this is how you do an accounting journal entry,' whereas we are going to teach 'how do you hire the right accounting firm?'"
Neher's parting words of wisdom: "Take electives outside of business. Show some kind of broader worldview."
Good advice, even if you have no intention of getting an MBA.
Join the discussion on the Bloomberg Businessweek Business School Forum, visit us on Facebook, and follow @BWbschools on Twitter.
Before it's here, it's on the Bloomberg Terminal.
LEARN MORE