Wetland? Nah. More Like a Perfect Spot for a Dream Home
By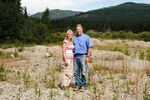 In 2005, Mike and Chantell Sackett bought a 0.63-acre lot near Priest Lake in Idaho for $23,000 and began making plans for the rural retreat they wanted to build there. They finally started getting their hands dirty two years later, readying the land for a three-bedroom home. But as Greg Stohr reported in Businessweek, soon after the work began the couple got an unexpected visit from federal officials ordering them to stop their project because the property is actually a wetland protected under the Clean Water Act.
So began a five-year legal battle in which the Sacketts tried to get several courts to rule that the lot isn't a wetland. They couldn't get a judge to do so because the EPA hadn't asked any court to enforce its order. Talk about swamps and thickets. The matter ultimately made its way to the Supreme Court, which came down yesterday with a ruling in the couple's favor.
The Sacketts still can't get started today on their dream home. But they are a step closer to doing so. (The EPA's order had said the agency would charge them $32,500 a day had they started construction.) The high court decided that a lower court has the authority to weigh in on whether the EPA's order is valid. Stohr reports today that every year, 1,500 businesses and people like the Sacketts receive these EPA compliance orders and that none has had any recourse. The Supreme Court decision changes that, although only insofar as the Clean Water Act is concerned. Although a narrow ruling, it's still a loss for environmentalists, who are happy with the EPA's ability to come down hard and fast against development that could threaten watersheds.
Before it's here, it's on the Bloomberg Terminal.
LEARN MORE