Boston's 'Innovation District' Eagerly Awaits More Innovators
by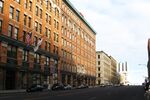 Boston's Innovation District? Nope, never heard of it, an MBA student in Boston told me. It's right over Fort Point Channel. Oh, the Seaport District. I thought that was just the sh-tty part of town. At a café in the Innovation District I asked a barista if she knew what it was. No response. Her colleague chimed in with information about the district's geography. Really? She was standing in the middle of it.
Over the last two years, blocks of old, brick factories and warehouses have been converted into hip working spaces by hundreds of entrepreneurs in the district—which covers roughly 1,000 acres on the South Boston Waterfront. Restaurants and bars including Legal Seafood and Del Frisco's recently opened there. New residential buildings, including a 14-story tower called Watermark Seaport, are planned. An Innovation Center, a 12,000-square-foot indoor "public space," will open this year. Even if the area hasn't completely shaken its reputation as a sh— … lackluster part of town, the wave of development under way seems destined to change this quickly.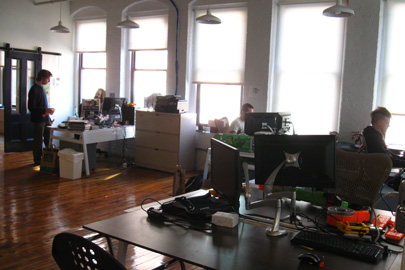 "Innovation District" is the aspirational moniker Mayor Thomas Menino gave to an area that includes Fort Point, the Seaport District, Boston Marine Industrial Park, and the Boston Convention and Exhibition Center. The name reflects what some describe as the mayor's pet project to invigorate the industrial South Boston Waterfront, in part by wooing entrepreneurs and startups. He announced the creation of the Innovation District in January 2010.
Technically speaking, the Innovation District is not even a district, since it has no clear boundaries. (Mayor Menino even declared customized jewelry company Gemvara, located across the channel in the Leather District, a part of the Innovation District at an event.) Nor is there any government backing or incentives for the kind of scientific and technological "innovation" the mayor hopes to encourage. In fact, the latest company to announce its move to the Innovation District is Trillium Brewing, which will join Harpoon Brewery among the district's beermakers.
Finally, the area is missing a few crucial utilities if it wants to entice America's techie elite. For example, many of the area's old buildings were not equipped with Internet. Some didn't even have heat. (A startup in the district, NetBlazr, is now setting up cheap, high-speed Internet in the neighborhood as an alternative to Verizon's service.)
Still, the city is intent on bringing businesses there—not through a strategy of subsidies and incentives, but through promotion. There's no dedicated staff for marketing the district, but Mayor Menino himself, his office including chief of staff Mitchell Weiss, and the Boston Redevelopment Authority have actively reached out to entrepreneurs, retailers, and real estate developers about Boston's strengths and showed off the community of startups and its collaborative culture.
"For so long [Mayor Menino] has felt like the South Boston Waterfront has potential, but he didn't want it to be Anywhere USA," says Weiss. "He had waterfront to develop, and he knows that [Boston] has a long history of being an innovation city. He knows the city has to invest to stay at the leading edge."
While most neighborhoods get their names from the existing character of the area, say, Chinatown or the Financial District, here the city chose a name—perhaps even a brand—to attract the kind of community it hopes to build. Oddly it seems to be working.
News of the district has spread in part by word of mouth, but one of the main entities guaranteeing a steady stream of entrepreneurs into the Innovation District is MassChallenge. Every year the nonprofit startup accelerator and competition awards money, training, access to consultants, and free space in its office for a few months to 125 startups. Competition winners get to stay an extra seven months for free, and finalists and other companies can rent space on the floor for $100 to $150 per person per month.
MassChallenge's office is provided by Joe Fallon, president and chief executive officer of the Fallon Co., who worked with the mayor's office to offer one floor of the building to the group free of cost. Fallon is also developing several properties in the area, including Fan Pier and the Westin Boston Waterfront Hotel. Successful startups that come to the district through MassChallenge will hopefully stay close.
Low-cost office space is like oxygen to startups, and Boston's new innovation hub offers a cheaper alternative to Cambridge's Kendall Square. Gemvara co-founder Matt Lauzon estimates rent in Kendall Square can be about twice as much.
Yet as the district has grown, rent has increased at an alarming rate to many of the businesses there. Drew Volpe, co-founder of Locately, a startup that uses mobile phones to help retailers and restaurants understand how consumers shop and a 2010 MassChallenge winner, says when he leaves the MassChallenge office he is considering moving to the Leather District, where he's found lower rent than in the Innovation District.
"I think that it's awesome what the city is doing for the neighborhood, evangelizing it outside of Boston, and they've been real stewards of the software economy in Boston," says Boaz Sender, a 26-year-old programmer at software development startup Bocoup, which has been in the area since 2009. The company leases one-and-a-half floors of a building and subleases 30 seats for independent engineers and software-focused startups (co-working spaces are not unusual in the district).
Many entrepreneurs there embrace the idea of a new innovation hub. "But people inside the city don't really embrace or identify with the brand," Sender says. This is especially true for the artists that were already in the Fort Point area, an emerging arts community.
But in a place where even beer—one of humankind's oldest inventions—counts as innovation, few have any reason to feel left out.
Before it's here, it's on the Bloomberg Terminal.
LEARN MORE