Jay Heinrichs's Powers of Persuasion
Businesses scrambling to fix a failed ad campaign, adapt to social media, or improve internal communications are turning to a self-styled scholar of Aristotelian rhetoric.
Peter Heller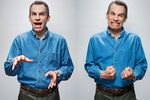 To a classicist, Canary Wharf, London, might be terrifying. It's a financial district of tightly packed glass towers that mirror the sky in chemical tints. HSBC, Citigroup, Credit Suisse, they're all here. Unadorned, gleaming, efficient architecture, a place without any nod to the past. But the past is here. The zone is built on the quays of the city's old port, used since Roman times.