Gourmet Dog Food: A Taste Test
We eat dog food so you don't have to!
Teddy Wayne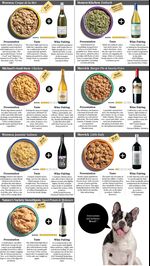 You love your dog like it's a member of your family. Why not feed it like one? Many people do. "Human-grade" pet food—which meets the Association of American Feed Control Officials' ingredient and manufacturing requirements—and its less strictly defined relatives are a rising sector of the $18.9 billion pet food industry. David Lummis, senior pet market analyst at Packaged Facts, estimates that all-natural dog food represents 10 percent of all sales.
How does gourmet dog food taste to a human palate? Lucy Postins has some idea. The founder of Honest Kitchen, the biggest pet food company permitted to claim human-grade status, says her 16 employees try every ingredient when putting a recipe together. But what about the average foodie? I tucked into seven dog dishes and solicited wine pairings from André Mack, owner of Mouton Noir Wines and award-winning former head sommelier of three-Michelin-star-rated Per Se in New York.
Before it's here, it's on the Bloomberg Terminal.
LEARN MORE