Dollar Shave Club's Founder: 'Yes, I Am a Funny Guy'
by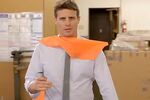 Some startup founders cut their teeth learning computer science at demanding universities. Others, like Michael Dubin, rely on their skills as improv comics.
Last week, Dubin took the Web by storm through his video ad for Dollar Shave Club, the startup he co-founded. The ad, which promotes the company's monthly subscription service for razors, has already been viewed more than 3 million times. The spot cost $4,500 to make and works because of Dubin's comic timing. In this interview, Dubin explains how a guy with no real technology chops created such a stir online and talks about what's next for the company.
You've got a real comic touch. Where does that come from?
Out of college, I moved to New York City and worked as a page at NBC. For about ten years, I also studied sketch comedy and improv at the Upright Citizens Brigade. They have a training program where you learn the art of comedy, and [I] performed there. Yes, I am a funny guy.
Has the viral video translated into sales?
The first day our site was broken if you tried to log in and buy something. We still got 5,000 people through and signed up. I can't share any numbers past that, but it's been wildly strong. I think everyone hopes for that kind of reaction, but it would have been arrogant to expect it. It's awesome. We are so flattered and humbled.
What blade manufacturer are you working with?
It is not a traditional big-name blade company. For competitive reasons, I won't go into much more detail, but the blades are made in Korea and China.
How big is your operation?
Five employees. We have a fulfillment center in Southern California.
Do you personally fulfill orders?
I did pack shipments when we were smaller. Now that we're growing, I won't be able to serve quite the percentage of orders as before.
Does the average shaver really need five or six razors a month?
There is no such thing as the average shaver. Everyone has their own grooming habits. People don't change their blades because it's so expensive, and that's unhealthy. That is one of the things we are trying to get away from. Blades are dirty. You cut yourself and scrape skin and hair off your face and have the razors sitting on a dirty bathroom counter. You want a fresh blade.
The big guys spend billions of dollars getting more blades on a razor. Their R&D must have some benefits.
You'd have to ask them. They get to tell that story. For the customer that wants to hear that, that is the right thing. Our customer is a little smarter. Your face has not evolved in a thousand years. It doesn't mean you have to shave with a broadsword, but there is a great shave out there for an affordable price.
What's next?
We are going to do a shaving cream and an aftershave moisturizer. We will develop custom formulas and let our users pick the ones that stay.
What do you say to the notion that this is a gimmick?
I haven't heard anyone say that. I don't think it's a gimmick. We are selling a great razor.
Before it's here, it's on the Bloomberg Terminal.
LEARN MORE