Japanese High Tech's Five Circles of Hell
By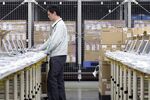 Japan's electronics sector is in a world of pain at the moment. In late February, Elpida Memory (6665:JP), the world's third-largest maker of PC memory chips, filed for bankruptcy, with $5.6 billion in debt, in the biggest-ever corporate failure for a Japanese manufacturer. Olympus (7733:JP) has been laid low by scandal. Sometime in May, Sony is expected to report a fiscal year loss of about $1.1 billion. This is no passing squall for Japan's flagship industry. Richard Katz, editor-in-chief of The Oriental Economist Report (subscription required), has crunched the numbers on the sector in recent research reports and has come up with some startling statistics that portray a once-world-beating industry in deep trouble. Here are five of those identified by Katz.
Competiveness: Japan's share of global exports by high-income OECD countries has fallen to 7.6 percent (as of 2010), compared with 12 percent back in 1984. Two years ago, according to the latest data available, the U.S. share was 16.9 percent; Germany's stood at about 14 percent. Korea's share—about 5 percent as of 2010—has been rising steadily and is closing in on Japan.
Exports: Katz notes that back in 2000, Japanese exports of electronic goods accounted for 26 percent of the nation's overall total. In 2011 the figure was 14 percent. Electronics is no longer a big contributor to Japanese trade. The country's trade surplus in electronics fell from 6.9 trillion yen ($83.6 billion) in 2000 to 1.2 trillion yen in 2011, an 82 percent drop.
Semiconductors: Back in 1990, Japan's dominance of the global chip industry was indisputable. "Among the top 20 semiconductor producers, Japan owned 55 percent of all sales to both Japanese and non-Japanese customers," Katz notes. Now (again, as of 2010) U.S. chip companies, led by Intel, rule with a 51 percent share. Japan's share has been almost halved, to 24 percent. The Korean share is 19 percent, with Samsung (005930:KS) No. 2, behind Intel, among the top 20 companies in terms of market share.
Massive Losses: Japan's biggest makers of phones, televisions, and chips say they'll lose about $17 billion this year, about three-quarters of what Samsung will spend on research to lengthen the lead over its competitors, according to a report from Bloomberg News. Katz points out that the industry's total production within Japan has been halved since 2000.
Hollowing Out: "About a third of all Japanese electronics production is done in overseas plants of the Japanese multinationals," Katz writes. That is twice the level of other Japanese manufacturing sectors.
One should never count out the ability of Japanese tech multinationals to reinvent themselves. The country has scads of engineering talent. Still, it's hard to fathom how quickly—and steeply—this sector has fallen.
Before it's here, it's on the Bloomberg Terminal.
LEARN MORE