pursuits
The Quest for the Perfect Carry-On Bag
Why can't anyone make the perfect carry-on?
By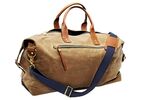 I let a bag go, once. It was a green-and-black nylon messenger that REI called a Musette, marketed after the canvas envelope used by paratroopers and bicycle racers to carry food. Aluminum cotter pins secured the strap to the bag, light but solid, a touch that always pleased me. It carried a laptop I bought with money from my first consulting job. It cosseted plane tickets in a flap pocket, kept out the rain, and held a change of underwear and socks without making too big of a deal out of it. It carried one book, not two, nudging me into a prudence I would otherwise have lacked; my bag concealed a copy of The Wings of the Dove for the entire two years that I failed to read it. And on a faithless whim I gave my Musette to a friend.
He still has it. He lives on another continent. REI no longer makes the Musette. And I am in love with its memory. Musettes show up on EBay, sometimes, but something about someone else's used bag feels unholy. The intimacy we feel with bags comes, in part, from what we ourselves have done with them.
Ask people who travel for a living to talk about bags and you will swear they're talking about partners. And a bag is a partner, a vessel you trust with your most private things. Its flaws become painfully apparent as they nag at a spot just beyond your clavicle. Yet it stays at your side as you walk forth through the world. I am married happily to my wife, but a foolish libertine with my bags. I have owned at least 11 different ways of carrying a laptop. In a fit last year, I ordered four new bags and returned all but one. Now it, too, feels overly bulky, its opening too small. It sits unloved in a corner of our guest room.
Mark Dwight designed one of those returned bags, a Commuter 2.0 backpack from Rickshaw. The Commuter looked stout, waterproof, and simple. When I returned it, I poured my heart out in an e-mail to customer service, explaining my weakness for bags and my faith—"like a medieval ascetic," I wrote—that the perfect bag was waiting for me. I praised Rickshaw's aesthetic restraint and lack of fiddly extra pockets. Then I told them what was wrong with their work. It sat too high on my back. Hung from its handle, it banged at my thigh. It lacked compression straps. I told them I had suggestions.
Dwight, who before launching Rickshaw was CEO of luggage manufacturer Timbuk2, responded personally and invited me on a Rickshaw factory tour. He explained the limitations of the set of frames he had to stitch bags onto, listened patiently to my ideas, and then told me something terrible: "There is no perfect bag. The bag you need is the bag that's right for what you're doing."
No perfect bag? I didn't think that Dwight could possibly be right. I e-mailed Thomas Mahon, who trained as a cutter of bespoke suits at Anderson & Sheppard on Savile Row. He runs his own shop now, has cut for Prince Charles, and commutes between London, four American cities, and his home in Cumbria. Surely, Mahon, with his understated respect for perfection, could point me in the right direction. He wrote that he hadn't yet found a "wonder bag." He puts as much as he can in a hanging bag, and "the rest of my belongings are usually dropped haphazardly into my 'executive travel bag,' which is usually a plastic bag from Tesco's." Tesco is a British supermarket chain. An English bespoke tailor carries his things in a grocery bag!
Mark Dwight's logic is circular—the bag you need is the bag that's right—but it's also inescapable. What's perfect is not carrying anything, remaining unhampered by zippers or straps. What's perfect is staying right where you are. Traveling is inconvenient.
My eye still wanders. I have a crush on an overnight wax bag from Ernest Alexander. "Soft leather handles," it promises, and "warm brass hardware." But I know how my crushes go, and at $465 this would be a bitter and expensive parting. And I still think about what's lost, but maybe it's gone with my youth, when I had more hair and slept untroubled. You can't ever get that back. Still I want my Musette. I think about it, now, when I board with another bag.
Before it's here, it's on the Bloomberg Terminal.
LEARN MORE