The Quest for the Perfect Carry-On Bag
Why can't anyone make the perfect carry-on?
By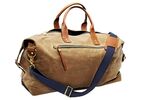 I let a bag go, once. It was a green-and-black nylon messenger that REI called a Musette, marketed after the canvas envelope used by paratroopers and bicycle racers to carry food. Aluminum cotter pins secured the strap to the bag, light but solid, a touch that always pleased me. It carried a laptop I bought with money from my first consulting job. It cosseted plane tickets in a flap pocket, kept out the rain, and held a change of underwear and socks without making too big of a deal out of it. It carried one book, not two, nudging me into a prudence I would otherwise have lacked; my bag concealed a copy of The Wings of the Dove for the entire two years that I failed to read it. And on a faithless whim I gave my Musette to a friend.