The Luxurious Lives of Preferred Travelers
The exalted lives of the preferred customers
By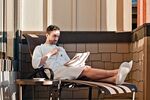 As president of Lucini Italia, a premium olive oil brand based in Miami, David Neuman frequently shuttles back and forth between Tuscany and South America. Neuman is a million-mile flier with United Air Lines and a Platinum-level member of Starwood Hotels & Resorts, the international luxury chain (it includes Westin, Sheraton, and W Hotels), with whom he has spent more than 1,000 nights across 40 countries. Three years ago, in an effort to lure more customers like Neuman, Starwood devised a test program wherein a select group of a few thousand of its preferred guests was given their own personal concierge, available to them 24 hours a day—and not just when they're staying at a Starwood hotel, but anytime. Starwood dubbed them "Ambassadors," and assigned one to Neuman. Neuman's Ambassador is named Sharon, and he calls her "my angel."
Sharon earned her wings by planning trips like one to Bangkok that offers a glimpse of the lifestyle afforded to hard-core travelers like Neuman. "I'd gone to Thailand to go to cooking school, and had spent the first week living in a remote hut in Chiang Mai, in Northern Thailand," Neuman says. "I was dirty and tired and very nervous about arriving in Bangkok at night by myself, because I'd never been there before and knew only that the airport is far away from downtown." Beyond the destination, he had given no instructions, leaving Sharon to arrange "a relaxing getaway." All he was told is that he would be greeted at the airport.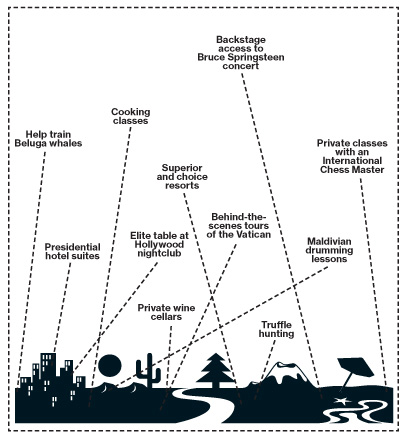 "It was murderously hot, even at midnight," he recalls. "But I walked out of the airport, and an air-conditioned limousine was waiting for me. Inside was a beautiful hostess in native dress who had prepared face towels soaked in Evian and offered me chilled sparkling water. She asked if I had any questions or if she could arrange any tours for me. I said that it was late, and what I really wanted was to get to my room." When he arrived at the Royal Orchid Sheraton in Bangkok, the general manager was waiting curbside. "He said, 'Please follow me, Mr. Neuman.' They'd already checked me in and whisked away my bags. An elevator was being held for me by a doorman, and we went straight to the top, to the Presidential Suite. Everything was perfectly tailored to my needs: The lights were dimmed, there were extra pillows and toiletries, plates of chilled seafood and fruit. After the hostess had finished the tour of my suite, she offered to draw me a bath. I slept like a baby that night. When they brought me breakfast the next morning, the chef knew I liked my egg whites cooked hard. In the end, I didn't want to leave the hotel and see Bangkok. I didn't want anything to ruin the experience."
Elite travelers like Neuman are the most sought-after in the world, and hotels and airlines compete vigorously to attract them. "Our top 2 percent of travelers are responsible for 30 percent of our profit," says Starwood Chief Exective Officer Frits van Paasschen. A single "mega-traveler," as Starwood has branded them—"road warrior" connotes stress and exhaustion—yields as much revenue for the company as 50 ordinary guests. In February the company augmented its preferred guest program with a new set of features informed by its study of elite travelers. Guests who reach Gold status (10 stays or 25 nights in a year) or Platinum status (25 stays or 50 nights in a year) for five years will be awarded lifetime membership in that category. Anyone who stays 75 nights in a year can check in and check out anytime, day or night. And those who stay 100 nights will be awarded the ultimate luxury of being assigned a personal Ambassador.
Traveler loyalty programs have been around since 1981, when American Airlines introduced AAdvantage in recognition of how important high-frequency, high-yield business travelers had become to its bottom line. A few years later, hotel chains led by Holiday Inn and Marriott followed suit. These programs quickly proved popular with customers—too popular, in fact, to justify the rewards they offered. According to FrequentFlier.com, notching as few as 75 stays entitled one to a pair of round-trip airline tickets to Europe or a week's stay in a Paris hotel. Practically anyone could live, or at least travel for a week, like James Bond.
That model proved unsustainable. In the late 1980s, many chains scaled back their level of generosity. But for international luxury chains such as Starwood, which launched the Starwood Preferred Guest program in 1999, the economics made sense. So, too, for others like Hilton Hotels & Resorts and its HHonors program, and the Leading Hotels of the World and its Leaders Club. Even luxury brands that initially held out, such as the Ritz-Carlton Hotels, now offer loyalty plans. But true mega-travelers hold Platinum status with multiple hotels and airlines, so perks like bottled water and Internet access did not assure their loyalty. "The points and the free nights and the schwag are all great," Neuman says, "but it's the service and the concern about me that makes the difference."


Offering elite guests exclusive "experiences"—the industry buzzword—became the new coin of the realm, the idea being that these were more difficult for competitors to copy. Hotels began tempting favored members with Super Bowl tickets, backstage access to Bruce Springsteen concerts, and behind-the-scenes tours of the Vatican. The Leaders Club arranged a sojourn to a 16th century Tuscan villa where guests could tour private wine cellars and go truffle hunting. The Global Hotel Alliance, a collection of 14 smaller brands (including Omni and Kempinski), offers everything from Maldivian drumming lessons to private classes with an International Chess Master to the opportunity to train Beluga whales in British Columbia or wear the native attire of Myanmarese ethnic tribes and visit the local crocodiles.
"People at these elite levels generally can pay for the things they want and desire," says Pamela Danziger, president of Unity Marketing, a research firm specializing in luxury consumer insights. "But the behind-the-scenes access, the exclusive experiences that money alone can't buy, these are what hotels can offer to keep them interested."
What has driven this competition between hotels to its latest and furthest iteration—private concierges—are two trends that have made mega-travelers even more desirable. The first is the global recession, which cut into personal discretionary spending and left hotels even more reliant on business travelers. The second is that during the recession, this elite 2 percent didn't slow down—its members traveled more, and farther afield, than they had before, according to van Paasschen. He posits that this reflects that companies are scouring the globe in search of growth, and most of the growth is to be found in emerging markets such as India and China. Danziger picked up the same pattern in her research into luxury consumers. "Everybody's been to Europe," she says. "Now they're going further. Large chain hotels are the ones they rely on, because you don't want to take a chance on a boutique hotel in China. You want to stay with a brand you know, and a brand that knows you."
Starwood decided it could gain an edge by getting to know these customers better. Everyone loves perks, but surely business travelers to emerging markets have needs that go beyond herding yaks on the Mongolian Steppe or taking private tours of the Taj Mahal. To discover what those perks were, Starwood launched a beta version of its Ambassadors Program three years ago, when it reached out to about 2,000 preferred guests with the offer of a personal concierge and intently studied how customers made use of them. The idea was to create a level of service so far beyond anything offered elsewhere that top travelers, especially those who have point-earning accounts with several companies, would choose Starwood. The Ambassadors themselves were spread among call centers around the world, so even if one's personal angel was asleep, someone was always available to assist.
It immediately became clear that mega-travelers place a premium on flexibility and personalization. "What people have in one place, they expect to have elsewhere," van Paasschen says. "They want to personalize the experience like they would their iPad or their Twitter feed."
For Jonathan Nouri, a New York City-based management consultant, that means his favorite wine will be waiting for him wherever in the world he checks in, along with his other must-have amenity: chips and guacamole. Neuman, the olive oil importer, has a "dossier" of 90 requirements that Sharon attends to in advance of any stay. These range from a treadmill and a microwave—he brings his own healthy brand of microwave popcorn—to a pre-inspection of his suite by the head of housekeeping to ensure that it's spotless.
Mitch Kingsbury, a venture capital entrepreneur in South Florida, is chiefly concerned that others' needs are met. He's used his Ambassador, Tanya, to help establish charities for people he has met during his travels, and also to secure a choice table at Drai's Hollywood Nightclub for his son, Nathan, an actor. "Tanya is almost an extended member of my family," Kingsbury says.


Van Paasschen does not wait for mega-travelers to choose Starwood. Having amassed reams of data on their profiles and predilections (one in three is a management consultant, for instance), the company has begun reaching out to people it considers likely future customers—in essence, targeting blue-chip recruits. "The best investment in your brand is recruiting and retaining those most loyal guests," van Paasschen says, "and part of that is being there early on. We've established a 'rising stars' program that looks at people coming out of the best schools and going into consulting firms, along with others most likely to become tomorrow's elite travelers. It's like Moneyball meets the hotel business—there's a way of being smart and predictive in how you deliver the human touch and great hospitality."
If there's a poster boy for the up-and-coming mega-traveler that Starwood and other hotels are aiming to lure, it's undoubtedly Nouri. A former management consultant for Deloitte, he often spent five nights a week in hotels, and he approaches loyalty programs with unusual zeal. He routes his flights through multiple destinations to maintain top status with airlines. Before committing to Starwood, he would routinely switch hotels every night to achieve elite status with all the major chains. He even holds top status at his local blood bank, where frequent donors can win free Mets tickets and other rewards.
On a sparkling Saturday in early March, Nouri and some friends were on a quick wine-tasting excursion at Robert Biale Vineyards in Napa, Calif., the first of several stops on a weekend getaway designed to help him recuperate from a busy week. His Ambassador, Shannon, had secured a suite at the new Westin Verasa with glorious views of the surrounding hillsides. Dinner arrangements had already been made at La Toque, the famed Napa restaurant and recipient of a Michelin Star, where his party would dine at the private chef's table in the kitchen.
As the late-morning sun warmed the valley, Nouri and his guests debated the merits of a peppery petite syrah while lounging in the vineyard's outdoor rocking chairs.
Eventually, the conversation drifted to hotel loyalty programs, but there was no debate. "With these kinds of rewards," Nouri said, waving his glass, "it's really impossible for me to imagine staying with anyone else."