The Best for Business Travelers
The best parts of business travel
By and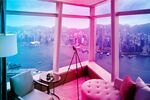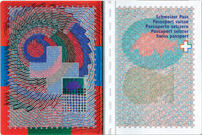 Passport
Leave it to the Swiss to elevate the utilitarian to a fetish object. The Geneva artist Roger Pfund redesigned the passport in 2003 as part of Switzerland's official rebranding. Pfund created a restrained cover in the national colors of red and white, embossed with Swiss crosses. Its pages explode with intricate rainbow-colored decorations that quietly contain security features like UV-reactive drawings. To comply with European agreements, documents issued since 2010 have biometric chips embedded with fingerprint and photo information. There are also perks to being a Swiss passport holder: The Swiss tie with Danish and Finnish citizens for having access to the most countries in the world without needing a visa, according to the Henley Visa Restrictions Index. It's also the ticket to living in a tax haven.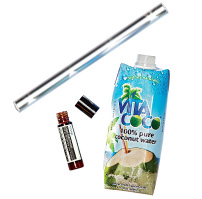 Jet Lag Remedy
If you're flying east, you already know to start rising early days before you go in order to soak up as much sun as possible; if you're headed west, spend time in a brightly lit space before you go to sleep. Stay hydrated by drinking lots of water—coconut water, which contains natural electrolytes, can help you rehydrate extra quickly—and by steering clear of alcohol and caffeine, as tempting as they may be. Aromatherapy may give you an extra boost. Aesop Ginger Flight Therapy comes in a travel-size vial—roll it on your pulse points at touchdown for a quick pick-me-up.
 
Airport Food Court
Home to American Airlines and Virgin America, San Francisco International's shiny new Terminal 2, unveiled last April after a $383 million overhaul, is a locavore haven. The first U.S. terminal to earn LEED Gold status—a measure of energy efficiency—features public art installations referencing the Bay Area (the airport is an accredited museum), as well as a "slow food" court with a range of regional favorites. Pack a picnic-to-go at Napa Farms Market, hosting artisanal vendors such as Cowgirl Creamery, Acme Bread, and Vino Volo wines. Or enjoy finer dining at restaurants from famed local chefs such as Cat Cora and Tyler Florence.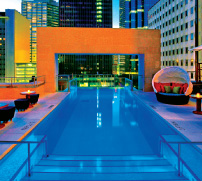 Hotel Pool
The Joule, Dallas is currently undergoing a $78 million overhaul that's scheduled to be completed by fall. One thing that should remain unchanged: the rooftop Joule Poule. Its canti-levered glass design, by Adam Tihany, makes you feel as if you're swimming beyond the hotel's edge, like a waterborne Wile E. Coyote, and the cabana beds are perfect for lounging with smoothies and snacks from chef Charlie Palmer.
Runners-up: In Beijing, the infinity pool at the China World Summit Wing stands out with views from floor-to-ceiling windows on the 78th floor of the China World Tower (the city's tallest building), not to mention underwater music. In Paris, the subterranean pool at the Mandarin Oriental offers a Zen-like escape from the city above, with extra-high ceilings and a waterfall.
Mini-Bar
The Stanford White building that houses the Chatwal in New York was formerly occupied by an historic club for theater professionals. Now its restaurant, Lambs Club, helmed by chef Geoffrey Zakarian, is frequented by the midtown power-lunch and drinks set. Along with the hotel's 83 vintage-style rooms, the restaurant was designed by French-born architect Thierry Despont with a dose of 1930s "baby grand" glamour (red-leather banquettes; chrome detailing). This ethos extends to the mini-bar—a bit of a misnomer for the closet-size compartment in each room, filled with everything from candy cigarettes to a portable poker table to "Chatwal No. 44″–scented Krigler candles to a copy of The Great Gatsby and a vintage cocktail shaker. In-room bar service is also an option.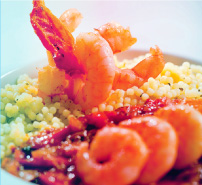 In-Flight Entrée
Aiming to offer "the very finest from the art of French living," Air France KLM recently launched a special dining program for business-class passengers on long-haul flights from Paris Charles de Gaulle, calling on the "ambassadors of French gastronomy" to design weekly-changing menus during six-month stints. Joël Robuchon, whose cuisine has racked up more Michelin stars than any other chef in the world (27), inaugurated the series in December. At press time, he was serving an appetizer of goose foie gras terrine with sautéed honey-and-ginger shrimp and a wine-poached pear and baby spinach salad; and mains such as scallops with shiitake mushrooms in a Noilly Prat cream sauce, or a risotto with sautéed cepe mushrooms and sun-dried tomatoes. For dessert, a chocolate parfait is followed by a selection of cheeses. De plus, Master Sommelier Olivier Poussier has chosen regional wines to pair with each dish.
Travel Necessity
Tide's instant stain remover cleans up food and drink stains, from BBQ sauce and coffee to strawberries and wine. It's small enough to be TSA-compliant and can be used on nearly any fabric.
Headphones
The trick to sleeping on a long haul is no secret among frequent fliers: noise-canceling headphones. Bose's Quiet-Comfort 3 Acoustic phones ($350) feature expertly balanced sound, a rechargeable battery lasting up to 25 hours, and an airplane adapter, and it uses half the space of earlier iterations. The ear cups are still cushioned, but here they fold flat to store in a small case.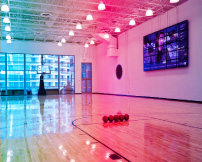 Hotel Gym
Working out on the road often involves outdated treadmills in dank hotel gyms. If you're lucky, there might be a TV and some free weights. Unless, that is, you go to Miami, where guests at the JW Marriott Marquis can use the hotel's NBA-size basketball court. The pros approve. Traveling NBA teams use the court when they're in town to play the Heat, and former Heat center Alonzo Mourning hosts his annual charity game here. For racquet sports, the hotel can transform the gym into a full-size tennis court.
Hotel Breakfast
Since it opened in September, London's Cut at 45 Park Lane—Wolfgang Puck's first restaurant in Europe—has become one of the U.K. capital's most coveted dinner destinations, and among the hardest to reserve. But spend a night in one of the hotel's art deco rooms, with their panoramic views of Hyde Park, and you're guaranteed a table for breakfast. On Puck's morning menu: salt beef hash cake with poached organic eggs and Béarnaise sauce; griddled brioche French toast with blueberry compote and clotted cream; and a twist on the classic English breakfast, with sage-and-pepper pork sausages, a black pudding "cassoulet" of confit bacon, and cippolini onions, roasted tomatoes stuffed with a mushroom marmalade, and poached organic eggs in a black truffle sauce. And yes, you can have your breakfast in bed.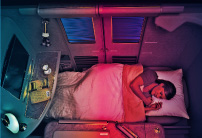 First-Class Seat
The Emirates first-class seat is less a seat than a tiny flying hotel room—complete with mini-bar, wardrobe, mirror, touchscreen TV, and a sliding door between you and the rest of the world. With a little assistance from the crew, the seat becomes a fully flat bed. Food comes when you ask for it, on "bone china tableware," from a menu tailored to the cuisine of your destination. Just remember that the champagne, spirits, and vintage wines are not available on flights to Saudi Arabia.
Room With a View
The Ritz-Carlton, Hong Kong (singles from $850) is the world's highest hotel, occupying the top 17 floors of Kowloon's International Commerce Centre. Its 302 rooms and suites—all outfitted with Bang & Olufsen sound systems, ergonomic leather chairs, and silk-paneled walls—check every box for design-minded travelers. The floor-to-ceiling windows, especially on levels 106 to 112, offer enchanting views of Hong Kong Island and Victoria Harbour. With a suite, you get a telescope to take it all in.
Hotel Stationery
If you're writing from the Chateau Marmont, your real message is that you've made it, in one business or another. Each room comes with its own letterhead. Beneath an etching of the distinctive Sunset Boulevard hotel, your name appears, along with the words "In Residence." The hotel doesn't just look good on paper. Founded in 1927, the year the first talkie came out, the property's 64 spacious suites and bungalows have served as home-away-from-home (or just plain home) for the likes of Greta Garbo and Howard Hughes. Led Zeppelin once rode their motorcycles through the lobby. More recently, Room 59 played a starring role in Sofia Coppola's Somewhere.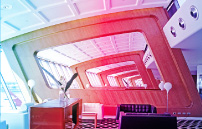 Airport Club
Airports too often lack a sense of place. The nearly 7,000-square-foot Sydney Qantas First Lounge, however, is Australian through and through. Upon entering, you're greeted by a "vertical garden" created by tropical botanist Patrick Blanc that uses indigenous greenery. Native son Marc Newsom is behind every aspect of the club's design: the leather lounge chairs and sofas in the private wireless-equipped work suites and mobile-free library; the tables, cutlery, and wall of windows at the seasonally inspired restaurant from fellow Australian chef Neil Perry; the site-specific, large-scale sculptures throughout. The ivy-covered spa, which features complimentary Payot facials and massages, is surely among the best spots to unwind before taking off.
Before it's here, it's on the Bloomberg Terminal.
LEARN MORE