pursuits
The Bangalore Express, a Networker's Paradise
Lufthansa's Flight 455 to India is a networker's dream
By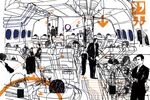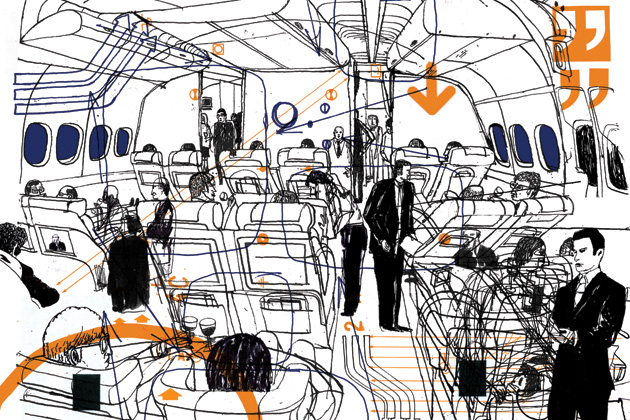 By the time he boarded in San Francisco just after lunch on Feb. 21, Tony Stuart had already collected eight business cards. Stuart, who runs a consulting firm out of Palo Alto that matches Indian outsourcing firms with American clients, paid $3,800 for his one-way business-class ticket to Bangalore. Before the 22-hour journey—including a couple of hours in Frankfurt to change planes—was complete, he'd introduced himself to 19 people, all of them potential clients. "That's, what, like $150 a meeting?" he says. "I'd probably spend more taking them out for dinner in Frisco." Plus the dinner—trout in an almond butter sauce—was terrific. As a one-man show running his own company, almost all of Stuart's business comes from the sort of frenetic networking he pulled off at 30,000 feet. Such exchanges happen all the time on LH 455, a flight so legendary it has earned its own nickname: "The Bangalore Express." The beginning of a day-long marathon between Silicon Valley and its counterpart in India, LH 455 (which connects in Frankfurt with LH 754 to Bangalore) turns into a tech convention even before it takes off.
On a recent Tuesday departure, Silicon Valley executives headed for Bangalore sit in slightly worn leather chairs in the Lufthansa lounge at San Francisco International Airport, smartphones in hand. Navin Chugh, managing director at First Advantage, a background-checking company based in St. Petersburg, Fla., corners one potential client. By the time the 11-hour flight to Frankfurt is done, he's closed a deal. "It was a complete cold introduction," says Chugh, smoking a quick cigarette in the smoking-area fishbowls in Frankfurt's airport. "He wasn't even on my radar, and he'd never heard of us. Now we're business partners."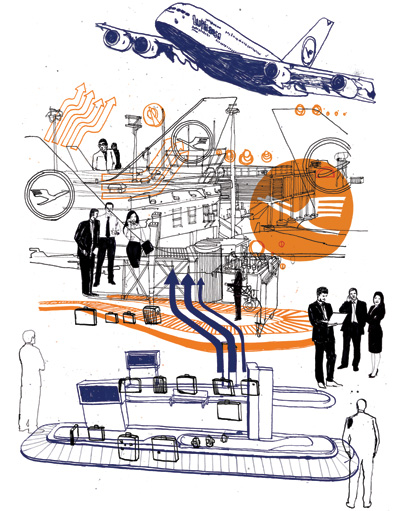 When boarding begins, the first-class travelers are led to the top deck of the 747-400, where the eight spots retail for $17,300 apiece, round-trip. That fare includes not one but two seats for each customer, so they can read by their full-size bed and its duvet in either the window or the aisle. Then come the 80 business-class travelers—chief executive officers, vice presidents, venture capital guys, lawyers, and big-money entrepreneurs. Experienced road warriors all, most dress comfortably for the trip in jeans and sweatshirts. The flight leaves at 2:40 p.m. sharp; Lufthansa is famous for its punctuality.
It takes a while for the meet-and-greet onboard to warm up. Drinks arrive, then lunch. Travelers doze, plug in a movie, or tap away on their laptops. After a few hours, they're ready to stretch their legs. They gather in groups by the galley. They switch seats to get closer to people they want to talk to. Entrepreneurs stalk venture capitalists, salesmen scope out new clients, and CEOs get bombarded with business cards. Less than two hours into a flight on Feb. 16, an Intel employee sidles up to a Toshiba executive at the galley, trades business cards, and offers him a résumé. The Intel guy, who declines to have his name printed ("Dude, my boss reads your magazine!"), says it isn't his first job interview on LH 455. He landed his job at Intel on this flight two years ago.
By the time the plane arrives in Frankfurt, cliques have formed, and groups walk to the modernist lounges scattered around the airport. For Indian techies, Lufthansa has a vegetarian Navratan curry and a few copies of the Hindustan Times laid out. Others pour out a Weissbier, get in line for a shower, or just collapse on a chair. Wi-Fi passwords are procured, BlackBerrys and laptops are brandished, and a hush ensues.
After a while the crowd thins as some people head off to cities in Europe, others to Bombay or Delhi, rather than Bangalore. For the last leg of the flight, it's 100 percent techies, and the dance begins again.
"This route for us is a pure, almost all-business-passenger route," says Axel Hilgers, the South Asia director for Lufthansa. Among others, Lufthansa counts SAP, Cisco Systems, Honeywell International, and Indian companies Wipro and Infosys as clients. "And obviously they are all colleagues or competitors, and they run after the same clients." Of the $67 billion in software services India will export in 2012, more than half is purchased by U.S. companies, and senior executives are constantly flying back and forth to meet clients, keep an eye on quality control, or visit the growing back offices overseen by companies such as IBM, Convergys, and Cognizant.
Lufthansa has been flying between Bangalore and San Francisco for 11 years. The airline says the flight has sold out since its maiden voyage in 2001. Grateful regulars, spared the annoyance of a two-hour flight to Bombay or Delhi before connecting to Europe, flocked to Lufthansa, which eventually ripped out some of the economy seats on its 747-400s to squeeze in its 80 business-class seats, the most it carries on any route except for those serviced by an A380. Even then, says a German diplomat who declined to be identified, anxious secretaries call the German Embassy in New Delhi at least a few times a month, hoping to score a last-minute seat for a CEO.
Lufthansa's flight remains popular despite some attractive options from competitors. Cathay Pacific Airways' Bangalore-San Francisco run is often an hour faster. Emirates has its layover in Dubai, which has better shopping than Frankfurt. Singapore Airlines flies a newer and more comfortable plane on the same route. But if you're a player, the Bangalore Express is the way to fly. Marc Casto, president of Casto Travels in San Jose, Calif., sells as many as $7 million worth of Bangalore-San Francisco tickets a year to corporate clients in the Bay Area. He says he has plenty of customers who specifically request Lufthansa. "That flight's definitely got a reputation for some great networking," he says.
Stuart, the Rolodex-stuffing consultant, has flown the route at least once a month for almost eight years. He notices conversations are most likely to start by the galleys, where folks end up when they are stretching. And he's not jealous of the royalty upstairs. "Forget first class," he says. "I tried that once: Everybody just slept."
Serendipity, of course, doesn't always serve up a contact. Rajneesh Patel, 32, who runs a startup in the Bay Area, bought a seat in economy, then begged miles from a friend for an upgrade. Sadly, he was seated next to a retired judge from Germany returning home after a Lake Tahoe ski vacation. With the business-class seats in the flight all taken, Patel didn't even have a chance to trade seats. "Maybe on the way back," he says.
Others do better. "You come across some serious heavy hitters," says Devesh Agarwal, a tech entrepreneur from Bangalore who also blogs about aviation. He sat next to Kris Gopalakrishnan, co-founder of $7 billion Infosys, and hitched a ride to Chennai on the private jet of another executive after getting friendly with him on the Bangalore Express. "It's sort of like being on the golf course with your most desired client," says Agarwal. "You've got this guy next to you for 10 hours. If you can't close a deal in 10 hours, maybe you need a better sales pitch."
Before it's here, it's on the Bloomberg Terminal.
LEARN MORE