business
Nirav Tolia: Hyperlocal Boy Makes Good
Hyperlocal Boy Makes Good
By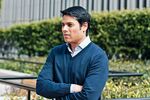 Nirav Tolia grew up in the remote oil-town of Odessa, Tex.—yes, the same Odessa of Friday Night Lights fame. When he arrived as a freshman at Stanford University, some fellow students shuddered at the prospect of small-town life. "That must have been terrible," he recalls them saying. Not so, says Tolia. "People knew each other and cared for each other."
Tolia, 40, is trying to make those neighbor-to-neighbor connections more common with Nextdoor, the startup he co-founded in 2010. Nearly 1,400 communities in 46 states have signed up for the service, which is like a mashup of Facebook, Yahoo Groups, and Craigslist—a social network designed to help neighbors find a babysitter, sell a StairMaster, or simply get to know each other. Members use Nextdoor to share basic information about themselves and send messages. All the conversations are archived so it's easy to find the name of that sought-after electrician long after someone first recommended him.
Nextdoor employs some unusual mechanisms to make sure the site maintains its small-town feel. When someone signs up, the company sends the new user a postcard with a log-in code to ensure they're telling the truth about where they live. New communities get started only if the founding member can persuade nine neighbors to join within 21 days, a test that around 20 percent of new communities fail. "We'd rather not launch a quiet neighborhood," says Tolia. "Crickets chirping doesn't help anyone."
In tiny Hamilton, N.Y., 31 percent of households use the service, including many older people who have no interest in Facebook or Yelp, says Anne Clauss, founding member of the Hamilton group. Brent Bamberger, a tech marketing executive who set up a Nextdoor neighborhood in Orinda, Calif., says that when he wanted to get a used Ping-Pong table for his kids, a user responded within 20 minutes. "An hour later, we were playing," he says.
Nextdoor isn't making money, but Tolia believes it could become a more merchant-friendly version of Groupon, a way for businesses to reach locals without Yellow Pages or junk mail. "If you're the Chinese restaurant owner paying someone to put menus on 5,000 porches, you know there has to be a better way," says Tolia. "People want to support their local businesses."
Tolia has proven he can attract eyeballs. He was one of the early employees at Yahoo!, and in 1999 founded Epinions, a product review site that merged with Shopping.com in 2003. (EBay bought the combined entity for $620 million in 2005.) Recently he's helped organize a supper club for Silicon Valley heavyweights, including Paypal co-founder Max Levchin and Salesforce.com founder Marc Benioff.
Scores of companies, including Yelp and Craigslist, have tried to master the so-called hyperlocal market. "A lot of people have swirled around this idea," says Zillow co-founder Rich Barton, a Nextdoor investor and director. "So far, it seems like this one works."
Before it's here, it's on the Bloomberg Terminal.
LEARN MORE