Gas Prices: How Real Is the Damage?
It's the psychological impact that may hurt us the most
By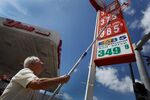 Gasoline prices in the U.S. have jumped 50¢ a gallon, to an average of $3.77, this year, and in much of the country it's tough to fill up even a small car for less than $50. The increase has pushed the issue to the front of the political debate, but how much do gas prices really affect a $15 trillion economy? The short answer: quite a bit, though probably less than we imagine.