Facebook's Missing Millionaires
Taking stock of those who walked away from stakes worth millions
By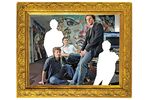 By the spring of 2004, Harvard computer science major Joe Jackson had already witnessed the online phenomenon called Thefacebook. He knew it had taken hold not just at his school but at many other universities. And yet, when his friend and Facebook co-founder Eduardo Saverin asked him to move to California for the summer to write code for the site, he decided to stick with the internship he had lined up at JPMorgan Chase. "I wasn't thinking about it as 'This could be my chance to be rich and famous,'" says Jackson, 28. "It was more like, 'This is going to Palo Alto and living in a house with a bunch of kids and programming for a startup that may not go anywhere.'"
Accepting the offer would likely have made Jackson a member of an elite class: one of Facebook's earliest employees who, along with investors, stand to make millions or even billions when the company holds the largest-ever Internet initial public offering later this year. "I completely missed the boat," says Jackson, who worked at technology companies and a venture capital firm after college and is now at Harvard Business School. He's one of many who turned down a chance for equity in the most successful startup of the last decade.
Theirs are not riches-to-rags stories. Several people who rejected early job offers at Facebook pursued promising alternatives. Kevin Systrom co-founded the popular photo-sharing app Instagram, and Mike Abbott served as Twitter's head of engineering until last year. Steve Chen, one of Facebook's first engineers, left after a few weeks to co-found YouTube. Sales manager Ali Fedotowsky left behind precious, unvested stock options when she quit in 2010 to star in The Bachelorette.
Joe Green lived in the same dorm as Facebook co-founder Mark Zuckerberg and became his friend and hacking buddy. During their sophomore year, Green helped Zuckerberg create a Web application called "Facemash" that asked users to rate the attractiveness of Harvard coeds; it landed Zuckerberg and Green in trouble with school administrators. Green says his dad, a professor at UCLA, told him, " I don't think you should do any more of these Zuckerberg projects." Green heeded his father's advice and opted out when Zuckerberg asked him to run the business side of what would become Facebook. Playing such a key role would have secured him 4 percent to 6 percent of the company, he estimates, a stake that would have been worth at least $3 billion today. The decision has nagged at Green over the years, but he says he's made peace with it. Green went on to co-found Causes, a for-profit site that has raised $50 million in venture capital to help users donate to charity. And he's received some Facebook stock for his role as an adviser to the startup. "Every once in a while you can have a moment of bitterness," Green says, "but in general I have been so blessed with what I have been able to do."
For all the venture capital firms that lined up to get a piece of the social network—from Accel Partners' $12.2 million investment in 2005 to Digital Sky Technologies' $200 million deal in 2009—only one is known to have walked away from negotiations with Zuckerberg. It happened in April 2004, when the young entrepreneur discussed selling Boston-based Battery Ventures a stake that valued Facebook at a sliver of what it would become. The investors balked, leaving a potential payout of billions on the table. "In retrospect, had we made that investment, yeah, it would have been great. I would have been on the cover of Forbes magazine with Oprah," says Scott Tobin, one of the Battery partners present at the meeting. "It's the biggest fish that ever got away."
Before it's here, it's on the Bloomberg Terminal.
LEARN MORE