Bid & Ask: The Deals of the Week
Noteworthy expenditures of the week
by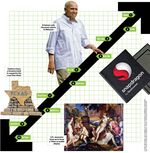 1. American International Group is selling $6 billion of AIA Group shares to help repay the U.S. government bailout it received in 2008.
2. Mobile-phone chipmaker Qualcomm plans to buy back as much as $4 billion of shares and raise its dividend by 16 percent.
3. Los Angeles-based investor Oaktree Capital Management raised a $3.9 billion fund that will focus on distressed European companies, say two people with knowledge of the matter.
4. 1Malaysia Development, the state investment company also known as 1MDB, is buying T. Ananda Krishnan's Tanjong, which owns power plants, for about $2.8 billion.
5. Israeli businessman Shlomo Eliahu, owner of Eliahu Insurance, signed an agreement with Italy's Assicurazioni Generali to buy its 69 percent stake in Israel's Migdal Insurance and Financial Holdings for $1.1 billion.
6. Europe's No. 1 bank by market value, HSBC Holdings, agreed to sell some of its general insurance units in Asia and Latin America for about $914 million. AXA and QBE Insurance Group will buy most of the assets.
7. AmerisourceBergen will pay $520 million for World Courier Group, a privately held transportation and logistics provider for the pharmaceutical industry.
8. Pioneer Natural Resources is paying $297 million for Carmeuse Industrial Sands, a company that makes silica sands for applications like glass manufacturing and oil-and-gas production.
9. Privately owned Cadence Bancorp will buy Houston-based Encore Bancshares for $250 million as it looks to expand in the Texas market.
10. The National Gallery in London purchased Titian's Diana and Callisto jointly with the National Galleries of Scotland for $72 million, ensuring the painting stays on public display.
Before it's here, it's on the Bloomberg Terminal.
LEARN MORE