Barrett Brown on the Arrests of Five of Anonymous's Hackers
The informal spokesman for hacker collective Anonymous spoke to Michael Riley the morning of March 6, when five key operatives were arrested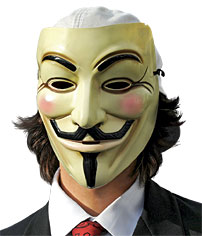 Have you seen the reports that Sabu [an alias for Hector Xavier Monsegur, the alleged leader of Anonymous offshoot LulzSec] has been a cooperating witness for the FBI since last June?
If that's true, he's an absolute traitor. If this is true.
 
Did you know this was coming?
I got a piece of information last night that allegedly emanates from the FBI chain of command. There are people in there that are sympathetic. So I did get warning. They came and raided my apartment in Dallas at 6:30 a.m., and knocked down the door since I wasn't there. They came to my mom's place [where Brown was staying] at the same time. A small group of three Dallas FBI. Mom answered the door, she woke me up, I went outside to talk to them. They're still there.
 
What does this mean for LulzSec and Anonymous?
They've actually managed to get people who are very important, the de facto leadership. They've done that occasionally in the past, but not to this extent. God knows what's compromised based on that.
 
What did you think of Sabu?
What a dumbass. Sabu and a friend of his really pissed us off a bunch lately. They're the guys who run AntiSec [another Anonymous offshoot]. There is another guy who has been around for a while and he's been coming to me and saying there is something very wrong with AntiSec and LulzSec. I guess this would explain it.
Before it's here, it's on the Bloomberg Terminal.
LEARN MORE