Ballad of the Road Warrior
The secret pleasures of the business trip
Pico Iyer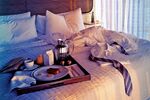 More sedentary friends gasped when I told them last fall that I was about to embark on a 56-hour set of flights from Santa Barbara to Hyderabad (and then fly away after fewer than 72 hours there). Upon arrival, I knew I'd encounter information booths with no people in them, roads with no signs, and taxi ranks with no taxis. Yet the only one not deterred by the prospect of the lightning business trip was myself, for one simple reason: I'd taken such journeys many times before. Here was a chance—though I wouldn't tell this to friends too loudly—to be loose in the world, out of radio contact, pampered by kind strangers, and in the thick of adventure for days on end.
When I got off my first flight, from Santa Barbara, where I live, to LAX, I heard that the next leg had been delayed because of an anticipated typhoon over Tokyo. Wonderful! Three extra hours amid the low lights and plush sofas of the Star Alliance lounge, surrounded by free drinks, tasty soup, and surprisingly delicate sandwiches (some of which I could stash in my carry-on for jet-lagged midnight feasting in Hyderabad). Then I climbed into my upper-deck economy seat on Singapore Airlines, which offers better food, more interesting movies, and much more attentive service than the business class of many other carriers. I'd have time now to watch at least three of the hundreds of movies on offer, enjoy a le Carré novel I'd been longing to read, and avoid phone calls or e-mails—and not feel guilty about doing so.
Our A380 bobbled a bit when it ran into the typhoon—we had to postpone landing for an hour—but when I arrived at Singapore's Changi Airport, just before dawn, I was able to stop at one of the gleaming, free Internet terminals and take care of business in a few minutes. The most soothing New Age lullaby I know—The Velocity of Love by Suzanne Ciani—was trilling in the immigration area. I stepped out into the tropical warmth and headed to a hotel nearby. A large and exotic breakfast in the sun, amid the palms, a comfortable bed for eight hours of sleep, another breakfast, and then back to the comfort of an airport that offers free movies, a butterfly garden, and rooftop bars worthy of an Ian Schrager hotel.
When, three days later, I flew back home, my wife expressed concern because I had flown so much in six days, and just for a job. I tried not to tell her that it's those who are not flying for business who are (sometimes) to be pitied.
In the popular imagination, the inveterate business traveler has long been a figure of ridicule, of satire, even of tragedy. Think of Willy Loman in Death of a Salesman, crashing his cars on the road, or George Clooney, standing alone outside a family home in Up in the Air. Vacationers page through the surreal gizmos pictured in a SkyMall catalog—an ionic cleansing facial shower, a video surveillance clock, an ultraviolet shoe deodorizer—and claim to bleed for those who inhabit this parallel world of enforced movement. They look at the photo in Hemispheres magazine of the road warrior who has just been rewarded for flying 10 million miles on United Airlines and wonder how you can remain human if you're flying three times more than a professional pilot. Even the free mileage credit I earn—good for holidays, cash, or acts of kindness to aging mothers—is a source of mirth to them: Six days in hell, goes the logic of frequent-flier programs (in their jaundiced eyes), and you get the seventh day free.
It's better not to disabuse these detractors of their schadenfreude. If they want to believe they're happier in a traffic jam on the San Diego Freeway, stuck at their desks in a "home office" where they're surrounded by screaming kids, let them stay where they are. If they choose to see business travel in terms of wobbly commuter flights scrunched up next to an overweight Falcons fan and getting up before dawn to drive 100 miles in a rented Hyundai, let them heat up their leftovers while executive spouses circle the globe.
Of course I, too, at many points in my life, have sneered at business travel, especially when I didn't have a job or flew too little to gain access to the quiet views and free meals in a gold-card lounge. I was taking off on pilgrimages, I liked to think—until I recalled that most wise men note that "The wise man stays at home"(Emerson) or "The wise man travels only in imagination" (Somerset Maugham). I gloried to imagine that I was taking my girlfriend on a romantic trip to Egypt (when I was 19)—until I found that nothing puts more stress on a relationship than travel, especially if you're condemned, as we were then, to $2-a-night places with mice under the bed. How wonderful to take a holiday, with not a work-related worry in the world—only to find that there's no better way of ensuring a bad time than counting on a good one.
Business travelers, by comparison, are often primed for hard work and possible disappointment, leaving them ideally positioned to be pleasantly surprised: a night on the town, if the town is Shanghai; a chance to be wined and dined—in Paris; an add-on weekend in Savannah, Ga. Often returning again and again to the same place, business travelers set up relationships with those places and the people there; they know where to find the best meals at 11 p.m., they've worked out the hotels with the most convenient health clubs, and they—we—often win everlasting gratitude by taking a spouse or friend on a free trip to Seattle or London. Business travelers are sometimes mocked for being flighty masters of the one-night stand, but it's vacationers who enjoy flirtations with a place, usually brief, never to see it again. Business travelers enjoy lifelong relationships with their regular stops.
The vacationer arrives in a city with all his time free (so he believes) and finds he can never enjoy a break from his holiday agenda. If he has a plan, he's already halfway toward an unhappy ending; if he doesn't, he may be in bigger trouble. The unexpected free day in which to explore a foreign place? It's probably a joy quite lost to him. The hours of hard work that give life outside the office real savor? Unimaginable. Even when I'm traveling on holiday, I'll often give myself an assignment or a writing project because, if I don't, the days drift by in a blur, and I come home not really knowing where I've been.
The first rule of any kind of travel is that the destination, and even the purpose, of your trip is less important than the spirit you bring to it. One friend of mine, a self-employed filmmaker, plays frequent flying as if it were a kind of Monopoly with miles. Recently he took seven mileage runs in a month (one of them from L.A. to Bangkok and back), and a part of me guessed that he was in it for the accomplished business traveler's sense of movement, the possibility of adventure, the chance to escape as much as for his 1K status.
Others like to sample the ways in which Atlanta, Chicago, and Raleigh, N.C., are all foreign countries. As when abroad, they aim to pick up a few words of another language in each of these places and some of the customs. The most exciting new city I've discovered in the past two years of global travel was Little Rock. For a few, the ultimate hero is a highflying consultant like Ram Charan, who didn't have a proper home until he was 67, lived his adult life entirely in hotels and on planes, and sent his laundry to an office in Dallas, where a group of strangers would forward it to his next destination.
It's true, I concede, that the business traveler—maybe especially if she's flying around the world over and over—gets tired, jet-lagged, and in desperate need of a familiar bed or the comforts of home. The Econo Lodge lacks the coziness of a guest-house and the splendor of an Aman resort. As I write this, I'm already trying to work out how and where I'll get my laundry done on an upcoming trip for work that will take me through six cities in 10 days and how to carry my winter overcoat to L.A. (since I'll be in Toronto the following weekend). Many a road warrior has to travel so much for work that, when he has the chance, all he wants to do is stay home.
Yet there's always a beauty—surely this is one of the lessons of business—in being underestimated. And it's not necessarily a bad thing to be pitied. High-frequency fliers make up their own kind of shadow community, complete with their own secrets and rituals and lore. When they meet a fellow traveler, they exchange a version of the Freemasonic handshake, perhaps in the form of news about the latest offer from a United Airlines Visa card. We're both members of this clandestine world of adventure and sometimes fun, but there's no need to tell others how much enjoyment is to be found there.
Only a month ago I was flying from Kyoto back to Santa Barbara by way of Osaka, Tokyo, and LAX. As I was waiting to board my first flight, an elegant Japanese man came up to me, smiling. We'd met on a flight—San Francisco-Osaka—two years before, when we'd both found ourselves upgraded to business class.
By chance we now found ourselves on the same flight to Tokyo as we headed back to the West Coast. By further chance we were both in the same row, and my new friend Ken-san managed to get a seat next to mine. Like business travelers everywhere, we soon began exchanging secrets. Ken-san knew all about the revised frequent-flier system that was the imminent result of the United-Continental merger and how many miles were required for gold status. He knew the All Nippon Airways lounge in Tokyo's Narita International Airport was far preferable to the Star Alliance lounge; it was famous, he said, for its udon. Having long ago crossed the 1 million-mile mark, he was now on his way to 2. He had even found out that it was cheaper to fly from Denver to Osaka by way of Singapore or Bangkok, and it allowed him the chance to spend a night in those cities as well as to collect bonus miles.
Ken-san had retired a few years earlier, but he so loved the life of business travel that he flew back every three weeks now, all the way from Colorado to western Japan, to see his 87-year-old mother in Kyoto. It didn't seem a hardship as he described the free vacations he could take with his wife that his miles brought him; the way he could enjoy the color and excitement of New Year's festivities in Kyoto before returning to play golf near Denver. An innocent might have kindly worried that poor Ken-san was spending a lot of his time midair. He—and I—knew that, in fact, even in retirement, he was choosing to be a business traveler for life. In a certain light, nothing could be better.
Before it's here, it's on the Bloomberg Terminal.
LEARN MORE