An App That Helps You Cozy Up to Strangers
Highlight's version of "ambient social networking" is dominating South by Southwest before it even begins
by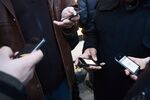 Paul Davison is in a hurry. Not just to board the plane that's about to take him to his father's retirement party in San Diego, or to get through the talking points about his new iPhone app, Highlight. No, Davison is rushing toward the future. "I'm completely convinced that in five or 10 years you'll be able to walk into a room and know everyone's name, where everyone works, and what people you know in common," he says in a sentence that comes out in an unstoppable cascade. Smartphones and apps will become this "sixth sense we all have, and we won't believe we used to not have that."
This emissary from the future speaks with authority. Highlight, barely a month old, is tracing a viral path through the early-adopter ecosystem with astonishing speed. There are three things you should know about it. The first is that Highlight conquered this year's South by Southwest, the Davos of tech, before it starts on Friday, March 9. TechCrunch, Robert Scoble, and others in the tech press have already anointed Highlight the product to watch. And in case this sounds like a dubious achievement, consider that last year's SXSW standout, GroupMe, was sold to Skype for a reported $85 million less than six months after the conference ended. Foursquare and Twitter also made their names at the Austin (Tex.) gathering.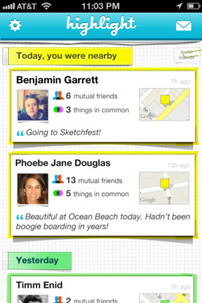 The second thing to know about Highlight is that it'll probably scare the crap out of normal people. And in this case "normal" is defined as anyone who doesn't spend half the day refreshing Techmeme. Highlight is part of a new category of apps called "ambient social networking." (Other, slightly less buzzy apps in this category are Glancee, Sonar, and Banjo.) Download it, connect it to your Facebook account, then forget about it. Whenever you're near another Highlight user with some connection to you—maybe a friend of a friend, or a fellow Penn grad—the app alerts you. Open it to see a map of where you are relative to the other user, glance at his (the users are overwhelmingly male, for now at least) profile pictures, and even message him.
Davison speaks eloquently about Highlight's potential to create more meaningful connections than what serendipity normally allows for. "San Francisco is a city of 800,000 strangers," he says. "When you walk by someone you don't know anything about them." It's as if you were perusing Facebook, but a version where every profile is a single picture, with no names or bios or relationship statuses attached. "That version sucks," says Davison. In the near future, he envisions a mother taking her child to a friend's birthday party, checking Highlight as she arrives, and instantly knowing which other parents are already inside. It would mean never forgetting the name of a casual acquaintance, and maybe striking up a conversation with a stranger who, like you, is really into French films. Until there's a critical mass of people on Highlight, though, using it is more like half-recognizing a pedestrian as you pass in the street—and recording that moment on servers that never forget. It's kind of like Gawker Stalker for non-celebrities. Call it Walker Stalker.
Creepy? That brings us to the third thing to know: Davison is well aware that Highlight will make some people squeamish. (He's quick to point out the obvious solution: If Highlight bothers you, don't use it.) Which is not to say he's worried. If you're online and using social networks, you've already given up some control of your digital identity. It's in the hands of people like Larry Page and Mark Zuckerberg, people who, over the past decade, have proven exceedingly capable of pushing society to new extremes of sharing. Perhaps Paul Davison and Highlight are the next shepherds. Or maybe someone else will dominate ambient social networking. Either way, the future sketched by Davison is coming, whether you like it or not.
Before it's here, it's on the Bloomberg Terminal.
LEARN MORE