pursuits
Hitching a Ride on a StartupBus Bound for SXSW
Alexandra Wolfe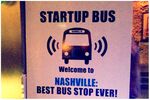 When I arrive at the StartupBus stop in downtown Nashville this morning, I spot a line of geek-chic engineers filing into three mega-tour buses. Stocked up on capsules of Keurig coffee, freeze-dried fruit, 18 gallons of water, and eight cases of Mercy hangover cure, a caravan of 20- and 30-something techies are ready to depart on a four-day mobile "hackathon" headed for the South by Southwest Festival in Austin, Tex.
The three Wi-Fi-fitted buses rolled into town yesterday from New York, Cincinnati, and Washington. There are 11 such vehicles in total, driving from cities around the country, carrying a combined 336 passengers who will try to conceive and launch their own startup businesses along the way. There they'll join the other "tribes" to compete and present their fledgling companies to investors. Earlier that morning in Nashville, they've just had a two-hour "mentoring session" with local entrepreneurs and are now packing up for the next leg down South.
Founded by Elias Bizannes of Charles River Ventures in San Francisco, StartupBus really took off two weeks ago, when participants applied online and were chosen after phone interviews. "They have to want it and be able to throw caution to the wind," says Mike Caprio, the "conductor" of the New York bus. A tall, sturdy guy with long dark hair and a beard, Caprio adds: "Taking a crazy road trip, that alone shows the kind of crazy, motivated people who show up." As Caprio has found, there is no shortage of hackers. And there are many who make a living purely by competing in hackathons. Two weeks ago organizers spent over 1,000 hours building StartupBus.com at New Work City, a shared workspace Caprio created for entrepreneurs in New York, and FF Ventures, a venture capital fund with investments in companies such as Hashable, Alerts.com, and Contently.
The New York StartupBus—my home for the next few days—officially hit the road yesterday at 4 a.m. after a launch party the night before sponsored by Google Places. Flannel-covered, jeans-clad, bespectacled "buspreneurs" pitched startup ideas on the way to Allentown, Penn. Then they broke up into teams to start building them. As the bus rumbled down the highway, they came up with Adventeur, a curated "location exploration" service that allows you to choose your own adventure in a new city based on your preferences.
The second startup idea, ReelTrend, is for an "emotional analytics service" for the film industry, billed as a "Moneyball for studios." The third, Happster, is a "psychographic location check-in service," a way to log the emotions you feel when you check in at different places. "The only question is who's going to use it and how big the market is," says Caprio, "but they had those questions about FourSquare." Another idea was Taxcast.co, which would help small businesses figure out their tax obligations and manage their expectations as the year goes on.
Before boarding the bus in Nashville, I take a moment to type on my laptop on a bench. A buspreneur with spiked, gelled hair and a leather jacket comes up laughing and says: "That's such a typical hacker move, coding at the bus stop." Flattered, I tell him I'm actually using Microsoft Word. His name is Cole Worley. He's the 27-year-old founder of the day-old startup Neighboard, an online community bulletin board for neighbors to communicate with their building. He hands me his card and says he's being sponsored by a Facebook app called Dojo. His card says he is Dojo's "Brand Evangelist."
We exit the highway in Memphis. "Anyone hungry?" asks Caprio. It's 2 p.m., and we've been on the road for about three hours. "How about we check out Elvis Presley's house?" he asks. "Does he have Wi-Fi?" asks a buspreneur. (Wi-Fi has been down on the bus for two hours.) Everyone laughs as we pull up to the Rock 'N' Roll Café. "How do you feel about a group shot in front of Graceland?" Caprio says into the microphone. "Don't tell anybody that I haven't changed my clothes yet!" Caprio and many of the others have barely slept in the past few days, let alone unpacked. We stretch our legs on a tour of Elvis's mansion. After an hour, though, the busses begin to leave, so I'm running for the second time that day—this time through Graceland's SUV-clogged parking lot—to catch my StartupBus.
On board, entrepreneurs sit in black leather seats, surrounded by Clif bar wrappers, jars of nutella and peanut butter, and bags of sliced bread. They work in huddles, coding and brainstorming ways to describe their new ventures. Up front, Caprio makes announcements as he follows ticker symbols on the BUSDAQ, a stock trading game the StartupBus team has created to trade the startups that have been created. Caprio takes the microphone. "How are you guys feeling today? I hope you're ready to work! I want to start seeing some code!" The teams pass around cupcakes and crack open their laptops. One team reveals a new name for their startup, and Caprio announces that its stock price is over $10. A shout comes from the back of the bus: "A company is born!"
Before it's here, it's on the Bloomberg Terminal.
LEARN MORE