pursuits
'The Hunger Games' Is the New 'Lord of the Flies'
By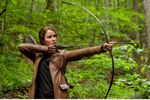 Now that the hoopla around the Oscars is settling down, Hollywood is getting ready for its next big spectacular—the March 23 opening of The Hunger Games. If you haven't heard of the movie yet, you will. It's based on the book by the same name, with 23.5 million copies in print in the U.S. When tickets went on sale on Feb. 22, the movie set the record for first-day advance sales on Fandango, edging out Twilight. The movie's official Twitter feed has more than 17,000 followers.
It's safe to say that most of those ticket buyers and Twitter followers are teens and tweens. But there are probably a sprinkling of stock analysts in there, too. David Joyce, an analyst with Miller Tabak, has upgraded the stock of Lionsgate, the studio that made the movie, to "buy." "We think investor enthusiasm for the late-March theatrical release of The Hunger Games, which could generate more than $170 million at the North American box office, should help the shares," he told the Hollywood Reporter. (Lionsgate is on a bit of a roll lately; its stock was at $8.71 a share on Jan. 12, the day before it announced an acquisition of Summit Entertainment, of Twilight fame, and traded at $13.79 on March 1.)
The Hunger Games takes place in the "ruins of what once was North America," according to the movie's official website. It depicts a world in which teenagers are chosen to fight each other to the death as a form of government intimidation. In the wince-worthy trailer, a young girl is chosen for this gruesome competition and is none too happy about it. Her older sister—our heroine, played by Jennifer Lawrence—steps in to take her spot. It's very, very scary and that's probably a big reason why teens can't wait to see the movie, which also stars Elizabeth Banks, Woody Harrelson, and Donald Sutherland. One eighth grader, who claims she will attend a midnight showing on the day it opens, says she likes the story because "they take real people and put them in unreal situations. You can relate to these people. They are just like us." (Full disclosure: The two-syllable word "Mom" was removed from that quote.)
This sentiment makes Hunger a natural successor to Lord of the Flies, the classic published in 1954 that became a required read in many schools and ultimately, two movies. Both stories show the savagery people are capable of, prompting teens to ask themselves what they would do in that situation. Some schools are beginning to assign The Hunger Games to students, and there is talk that it will begin to replace Lord of the Flies in the middle school curriculum. When a teacher suggested replacing Flies with Hunger in a blog post on the education website Bright Hub, expecting to be pursued with pitchforks, several teachers responded that they had already started using it in class, or intended to.
Anna Soter, a professor of Literacy and Language Education at Ohio State University, thinks that's a good idea. She points out that one problem with teaching Flies is that all the characters are boys. With Hunger, "we have the relevance in terms of gender representation," she says. Tales of "an individual in the heartless system" have had relevance since ancient times, she says, and prompt teens to explore decisions about what's right and wrong, and the boundaries of ethical behavior. "It's full of issues that students need to talk about," she says, and they usually "don't have role models for this anymore."
But don't look for those messages in the onslaught of publicity and advertising that will soon assault almost everyone. Lionsgate is launching an eight-city mall tour that will allow fans to meet the stars and vie for the chance to win a limited-edition Hunger Games HP Folio PC from the Microsoft Store, a sponsor, and other Hunger Games-branded stuff. The studio also co-operated with People magazine, which is publishing a special collectors' edition devoted to the movie. People had "tremendous luck" with similar editions for Twilight,  says Executive Editor Liz Sporkin. "We could tell Hunger Games was going to be another phenomena," she says, acknowledging that the story is "very bleak." The movie's Facebook page has been "liked" more than 2.4 million times. And then there are multiple fan pages, one of which featured a fan chat on what to wear to the movie that had been viewed over 3,750 times.
Lord of the Flies, of course, had none of those publicity advantages, but has managed to stay in print and in classrooms for 58 years. How long The Hunger Games holds up is anyone's guess. If you ask the fans, it will be a long, long time.
Before it's here, it's on the Bloomberg Terminal.
LEARN MORE