Would You Give a Lorax Dessert for Breakfast?
Bruce Weinstein, PhD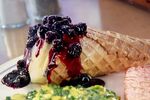 Last week I began seeing TV ads for kids' meals from IHOP (a division of DineEquity) tied to today's release of the family film Dr. Seuss' The Lorax from Universal Pictures and Illumination Entertainment. The ads tout new menu items, including a pancake stuffed into a waffle cone, topped with blueberry compote and powdered sugar; a version with ham, eggs, and creamed spinach (hence "green" eggs); and a rendition that adds hash browns to the mix. But what's the caloric content of these breakfast items?
IHOP provides nutritional information on its website, but I couldn't find the Lorax meals. Patrick Lenow, executive director of corporate communications, looked into the matter and discovered this was an oversight. It's on the site now.
IHOP is to be commended for taking seriously its mission to educate the public about what it sells. Kudos to them, too, for offering 3 million seeds to children who order the Lorax meals, so small fry can plant trees and apply the film's pro-environment message to the real world.
Still, it's troubling that the corporations behind these fast-food outlets continue to target kids with ads for high-calorie meals when our nation is facing what can only be called an obesity crisis. According to the Centers for Disease Control and Prevention, the percentage of overweight or obese children in this country has more than tripled in the past thirty years—over a third of children and adolescents weigh too much. Given this, is it right for restaurant chains to market belly-busting breakfasts to kids?
The combo platter mentioned above packs 1,050 calories and 52 grams of fat into one meal—more than half the total calories most kids should consume in a day. You can cut calories by choosing just a Rooty Tooty Bar-Ba-Looty Blueberry Cone Cake (a relatively paltry 330 calories and 7 grams of fat), but let's face it: This is still a confection masquerading as breakfast.
It's time for the hospitality industry and the entertainment conglomerates who work with them to rethink their promotional offerings to children.  Kids don't know any better, but parents who give their children dessert for breakfast are not giving them their just deserts.
Before it's here, it's on the Bloomberg Terminal.
LEARN MORE