Top Secret: Durex's Olympic Condoms
London organizers crack down on marketing by non-sponsors
By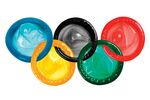 The more than 10,000 athletes at this year's London Olympics will receive free condoms in the Olympic Village from Durex, the world's top-selling brand and part of England's Reckitt Benckiser Group. But Reckitt Benckiser isn't trumpeting its tie to the event, traditionally a marketing bonanza for big brands such as Coca-Cola and McDonald's. "We're restricted by the Olympics' organizing committee guidelines on what we can and can't say," says company spokeswoman Andraea Dawson-Shepherd.
That's because Reckitt Benckiser isn't one of the companies that have plunked down £1 billion ($1.6 billion) to be official sponsors of the London Games. Among those is Procter & Gamble, whose household products compete fiercely with Reckitt Benckiser's around the world. To protect its partners, the London Organizing Committee of the Olympic Games (LOCOG) has cracked down on non-sponsors trying to hijack the Games through ambush or guerrilla marketing.
Every big sporting event, from soccer's World Cup to the Super Bowl, has rules to protect sponsors' investments, but clever marketers have often found ways around them. Whether it's American Express advertising that you "Don't need a visa" to visit the 1992 Winter Games (rival Visa was an official sponsor) or Dutch brewer Bavaria hiring models clad in tight orange dresses to attend matches at the 2010 World Cup, sponsored by Anheuser-Busch, guerrilla marketing is as much a part of the Olympics as tales of athletes overcoming adversity.
LOCOG aims to change that. The anti-ambush rules it got Parliament to pass are the most restrictive ever, say marketing experts. They outlaw the use of combinations of words such as "2012," "London," and "gold" to such a degree that a suntan lotion ad with the tag line "Get bronze for 2012" would likely draw fire. Another statute restricts advertising near athletic venues, to prevent a repeat of 1996, when Nike blanketed parts of Atlanta with Swooshes, drawing attention from sponsor Adidas. Fines can reach £20,000 ($31,670).
"Any marketer wanting to do anything with the Games could find themselves on the sharp end with LOCOG," says Mark Blayney Stuart, head of research at The Chartered Institute of Marketing in Britain. "This is a new development in the history of marketing—that previously acceptable commercial practices can now be faced with criminal charges because a powerful organizer doesn't approve. The million-dollar question is: Have they gone too far?" Not at all, say LOCOG and the International Olympic Committee. "Without sponsors, the Games would not happen," says a LOCOG spokesman. "People who seek the same benefits for free … are effectively depriving the Games of key revenue."
It's unlikely brands that aren't sponsors will simply leave the field to those that are, says André Soldner, a sports lawyer at Klinkert Zindel Partner in Frankfurt. Thirty-five percent of British marketers say they're likely to do some branding during the Olympics, according to a survey by The Chartered Institute of Marketing. The challenge for Durex and other non-sponsors expected to seek buzz in London is how to creatively glom onto the Games without raising LOCOG's ire. LOCOG's challenge will be to police ambushes without drawing attention to offending brands. Says Blayney Stuart: "The irony is that the more you try to clamp down on it, the more coverage it gets." So far, no one has been arrested.
Before it's here, it's on the Bloomberg Terminal.
LEARN MORE