The GOP Eases Up on Prisons
Some states are opening prison doors to save money
By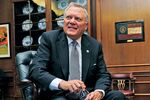 In September 2009, Georgia police stopped Charles Canion for driving erratically and found a bag in his car containing traces of methamphetamine. Arrested and convicted a third time for drug possession, Canion was locked up for two years at an average cost to the state of $51 per day. Canion, 50, is out now, but will be on probation until he's 77, costing the state more money.
Canion may never have gone to prison under proposed reforms backed by Georgia Governor Nathan Deal, one of many Republicans across the country looking to reduce state corrections spending by softening sentencing laws. On Feb. 27, the state's GOP-led House of Representatives introduced legislation that calls for special courts to steer drug users into rehab, which Deal says is cheaper than a jail sentence. "We must focus on transforming our corrections system into … a place where low-level offenders are reclaimed and restored to society as functioning members of the community, working to support their own families, and paying taxes," Deal said last month in a speech to state lawmakers.
Lose the point about taxes and you're left with an argument liberals made for years. The number of Americans behind bars nearly tripled from 1987 to 2007. Despite a slight decline in jail populations from 2008 to 2009, states spent $50 billion on corrections in 2010, the second-fastest-growing expense after Medicaid, according to the Pew Center on the States.
That's why Deal and other conservatives are reaching for the keys to the big house. A proposed bill in Missouri would cap prison sentences at 120 days for low-level offenders who violate their probation. New Jersey Governor Chris Christie is seeking $2.5 million to create mandatory drug courts for nonviolent offenders, while in Pennsylvania a panel of state officials is studying prison trends to look for savings. "Twenty or 30 years ago, we were letting murderers and rapists out every day because there weren't enough prison beds, and there were attitudes excusing crime as society's fault," says Marc Levin, senior policy adviser with Right on Crime, a project run by the conservative Texas Public Policy Foundation that's pushing the reforms with the Pew Center. "Then the pendulum swung, and it swung too far."
Grover Norquist, president of Americans for Tax Reform, Tony Perkins, director of the conservative Christian Family Research Council, and Newt Gingrich have signed Right on Crime "pledges" endorsing sentencing reform. Right on Crime hopes such endorsements will serve as the conservative credential to influence Republican lawmakers in Georgia and elsewhere. In 2010, ALEC (the American Legislative Exchange Council), the conservative public policy group, added several crime reform bills to its portfolio of "model" legislation that GOP lawmakers across the U.S. use as boilerplate language. Seven states with Republican majorities—including Alabama, Louisiana, Ohio, and Oklahoma last year—have loosened sentencing laws.
The reforms have angered prosecutors. "Nobody is in prison now for a minor drug offense," says Scott Burns, executive director of the National District Attorneys Association in Alexandria, Va. "Judges and prosecutors go out of their way to find alternatives to incarceration."
In Georgia, one in 13 residents is locked up or on probation or parole—the nation's highest rate of correctional control. The state spends 7 percent of its $15.9 billion budget on prisons. Frank Hogue, president of Georgia's criminal defense bar, says he wants to work with conservatives, no matter their reasoning. "It's about the money, of course," Hogue says. "I don't care what the motive is."
BOTTOM LINE -
The bottom line: Correctional facilities are the second-fastest-growing expense for states, costing $50 billion in 2010.
Before it's here, it's on the Bloomberg Terminal.
LEARN MORE