Steve Wynn's Expensive Breakup
Steve Wynn and pachinko king Kazuo Okada were pals. No more
By , , and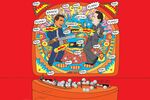 Two years ago casino magnate Steve Wynn and Kazuo Okada, who made his fortune supplying equipment to Japan's huge pachinko industry, appeared to be the best of partners. Okada had invested in Wynn Resorts in 2000, eventually amassing a 20 percent stake and serving as the company's vice chairman. Wynn had named fancy restaurants at some of his casino hotels Okada.
But in early February, Wynn Resorts pulled the name from the Las Vegas eatery and forcibly redeemed Okada's ownership stake after investigators for its board said the investor, chairman of Tokyo-based Universal Entertainment, allegedly made improper payments to Philippine gaming regulators. Wynn Resorts then issued Okada a $1.9 billion promissory note for his holdings, effectively booting him from the company. That's $870 million less than the $2.77 billion stock market value of Universal's Wynn shares. Okada told Bloomberg that he wasn't aware that Wynn Resorts had in 2002 amended its articles of incorporation to enable it to declare shareholders "unsuitable" and redeem their shares at a price determined by the company.
"They gave the board the report without letting me review it," Okada says. "Even criminals would be asked to sign off on the findings to ensure there are no mistakes." In a statement, Universal called the forced sale "outrageous" and vowed to "take all legal actions necessary." Okada says the redemption was in part a response to Universal moving to enter the casino business in the Philippines on its own and for a lawsuit Okada filed against Wynn Resorts in January. Okada sued Wynn in Nevada, demanding information about the company's HK$1 billion ($135 million) donation to a university foundation in Macau, home to Wynn's most profitable casino. Wynn's Macau casino generated 70 percent of its revenue, and it's seeking a land grant there to build a second.
Wynn Resorts says its probe—conducted by former Nevada Governor Bob Miller and former FBI Director Louis Freeh—found Okada violated U.S. law by providing free lodging and hospitality to Philippine regulators. Wynn executives told investors on a Feb. 21 conference call that ousting Okada was necessary to protect the company's gaming licenses. Also, Wynn in a Feb. 19 court filing said Okada violated its code of conduct for directors by competing against it.
Cristino Naguiat Jr., chief executive officer of Philippine Amusement & Gaming, the gaming regulator, said in an e-mailed statement that the agency under his tenure had received no cash or in-kind payments from Okada. The Universal chief visited the gaming authority in February and told Naguiat that the $110,000 in payments referred to in the Wynn Resorts investigation as improper were for business associates' accommodations, according to that statement. Philippine President Benigno Aquino III has ordered an investigation.
Okada on Feb. 27 told Philippine lawmakers that he'll continue plans to open his $2 billion Manila casino project by 2013. "I will be able to prove that all of the accusations are baseless and are lies," he said.
Before it's here, it's on the Bloomberg Terminal.
LEARN MORE