Silicon Valley's Humble Billionaire
by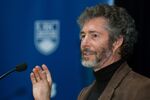 It's a Saturday afternoon in Palo Alto, Calif., and there goes David Cheriton, navigating the Silicon Valley suburb's tony downtown on his bike. "That guy is a billionaire," I tell my family. "Really? He looks like he could be a homeless guy," responds my wife.
Ever blunt, the wife has a point. Cheriton's mess of curly hair stretches out from the confines of his biking helmet, and his beard has a certain mountain man aesthetic. There's no monocle or bespoke Italian suit. Just a skinny dude on a simple bike in casual clothes.
Cheriton, a computer science professor at Stanford University, made more than $1 billion by cutting the first checks for Google and VMware. He made millions more starting and then selling data-center hardware companies to the likes of Cisco Systems and Sun Microsystems. He's made more money still through investments in numerous other startups. He really does have a golden touch—one he shares with longtime investing and technology partner Andy Bechtolsheim, one of the founders of Sun.
("It can be frustrating working with Andy," Cheriton says. "But I am sure Beethoven was a pain in the ass to work with, too." Bechtolsheim often receives praise as one of the finest hardware engineers in the Valley's history.)
Last week, Cheriton appeared at a Churchill Club event in Silicon Valley and laid out his current investment thesis. The tendency, he says, is for people to get caught up in the next big thing coming out of the social networking and mobile scenes. But Cheriton is more interested in rewiring the back-end gear that fuels Web-based computing. "I think there is an opportunity to go back and say, 'Gee, I think there's lot of room for improvement in the infrastructure.' "
Cheriton contends that much of the infrastructure technology remains based on 30-year-old ideas. So, he and Bechtolsheim co-founded a networking company called Arista to speed up the transfer of data. "We need much higher-quality networking," he says. "It's the foundation for all of this." Cheriton has also put money into a host of other startups working in the software and storage arenas, including Tintri and Optumsoft.
He is, of course, not alone with this line of thinking. Last decade, the data-center world went through something of a dark age. VMware, the virtualization software maker, was just about the only massive hit. In the last couple of years, though, we've seen wave after wave of cloud computing companies, security specialists, and hardware makers take a crack at speeding data-center technology. It's a movement that threatens the old guard such as Cisco, Hewlett-Packard, and Oracle.
Ever the computer science professor, Cheriton describes businesses as "information processing engines" and says geeks have taught the world much about how to run successful companies. "In computing, we get trained about how to optimize information processing," he says. "Google is a new type of company that is processing information in different ways." Companies driven by "computational thinking" are moving faster than their predecessors, Cheriton says, and applying tremendous pressure on their rivals.
When asked to opine on the timeless Silicon Valley issues—a lack of visas for foreigners, meddling venture capitalists, and government regulations—Cheriton balks. "I hate to sound like Pollyanna," he says. "But if those are the biggest problems, we should be getting up in the morning and giving thanks. If you look at what other generations had to deal with, we live in a nirvana right now."
Before it's here, it's on the Bloomberg Terminal.
LEARN MORE